Last Updated on September 15, 2021 by Jeremy
Disclaimers: This review uses WSET Diploma terminology and our own rating scale. Read more here. We use demographic data, email opt-ins, display advertising, and affiliate links to operate this site. Please review our Terms and Conditions for more information. This website is intended for those of legal drinking age in your jurisdiction.
Over the last year or so, I've been developing a bit of a love affair with Syrah. This grape has a wonderful flavor profile with nice black pepper characteristics and can be quite intense as well.
Of all the regions that produce Syrah, my affinity is pushing towards those from the Northern Rhone in regions like Crozes-Hermitage, Hermitage, and others. One region that took me a while to try was Cote Rotie as these bottles are often among the most expensive we've seen (think $70 for the cheapest, $100 for average, and $150+ for more).
But the allure of Syrahs from the roasted hillside got the better of me, so when I needed a bottle to celebrate some good news, I knew what to get. I ended up finding Domaine Rostaing Ampodium 2017 for just about $90 and popped it open the very next day. It was everything I hoped for.
Cote Rotie is an Intense Syrah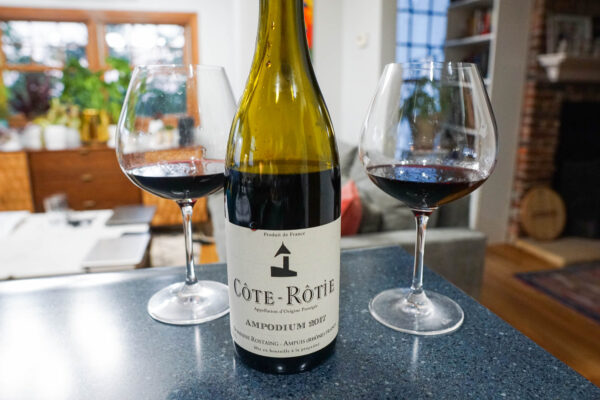 This Cote Rotie Syrah was medium ruby in color with medium aromas of black and red cherries, blackberry, cassis, red plum, clove, blackberry, vanilla, black pepper, and vanilla that was developing.
The palate was, thankfully, much more intense than the aroma. It was dry with medium+ acidity, high smooth tannins, high alcohol, full-body, pronounced flavor intensity, and a long finish. The wine had flavors of black cherry, cranberry, darker plums, clove, cedar, black pepper, cassis, and a bit of violet as well. The tannins really packed a punch in this one and it benefited from a very brief decant (20 minutes) and pairing with a fatty cut of meat.
But as the acidity, tannins, and flavors were all rather intense, this bottle could easily age for 10-20 years and we would love to grab another to revisit down the road.
Cote Rotie Food Pairing – Sous Vide Pot Roast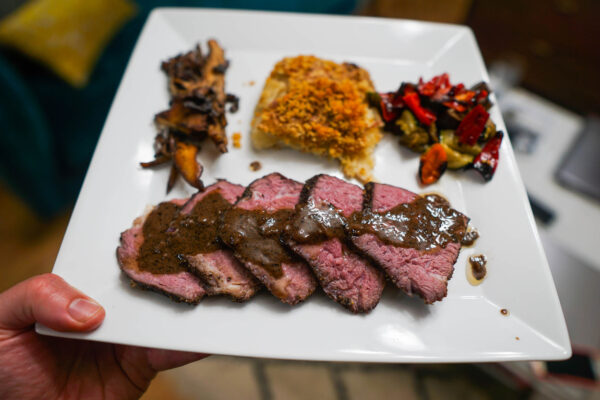 We went the beef route for this wine and paired it with a chuck roast that was sous vide with salt, pepper, and a lot of herbs for almost 48 hours at 130 degrees F. The roast was finished with a quick sear and extra black pepper and sea salt and topped with a pan sauce made from the drippings collected in the bag.
The pairing was sublime. The tender but still somewhat fatty meat cut through the tannins and really helped elevate the fruit flavors. The heavily peppered meat also translated well into the pepper-forward wine that really made it sing.
On the side front, we also tried the wine with mushrooms and a potato gratin with bread crumbs. The gratin, specifically the toasted breadcrumbs, also helped bring out a chocolate flavor we did not pick up on in the straight tasting, making this a fun meal to pop around between items and see how it influenced the flavors in the wine!
Score: 4.5 / 5
We want several bottles of this one.
In a way, this bottle could have fit into our standard 4.0 tier of "we want a bottle", but the aging capabilities of this style make us want to have a few on hand to try out over the next 10-20 years. We'll see if we can splurge for a few more on the admittedly high price tag, however!
Domaine Rostaing is located in Ampuis, France in Cote Rotie. We purchased this bottle locally and enjoyed it in 2021.