Published Jeremy. Last Updated on January 1, 2021.
Disclaimers: We use demographic data, email opt-ins, display advertising, and affiliate links to operate this site. Please review our Terms and Conditions for more information. This website is intended for those of legal drinking age in your jurisdiction.
While we would typically like a bit more body and complexity in our reds, the Domaine Vincent Dureuil-Janthal Rully came through with a wealth of red fruit flavors as well as subtle undertones of clove and other earthy characteristics.
The steak we paired this one with was perhaps a bit too strong in the meat department, but the morel mushrooms as a side worked out beautifully.
A Mellow Red with Barrel Undertones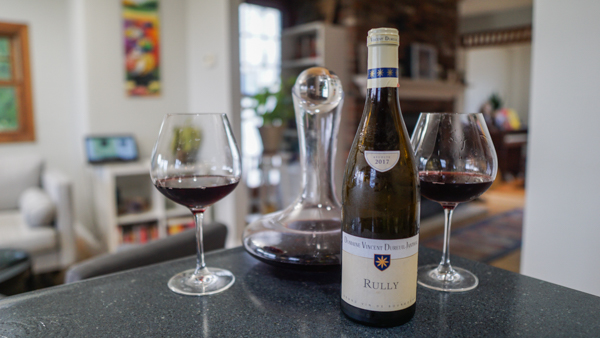 This French Pinot Noir pours with a pale ruby and has an intense aroma that is perfectly balanced between dried red fruits and barrel notes of leather and tobacco. As you sniff, spices like clove can be detected as well and develop more over time.
When taking a sip, we got predominantly cherry and cranberry flavors similar to what you'd expect from a fruity, house red. Much like the aroma, there were some subtle undertones of clove and earthy characteristics as well that could be classified as being mellow overall. After that went away, very mild tannins were noted around the gums as well as faint vanilla on the finish.
For what it is worth, this was a fairly solid, fruity red wine but did not have a terrible amount of depth. Although we decanted this one, you could just as easily get by without decanting as well.
Domaine Vincent Dureuil-Janthal Rully Food Pairing – Sous Vide Steak Plus Sauteed Morels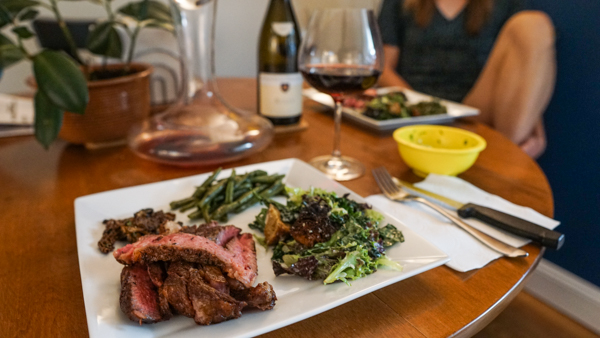 We opted for one of our tried-and-true red wine pairings with this bottle, a sous vide steak cooked rare with a finishing sear in our cast iron to bring it to medium-rare. We also added sauteed morel mushrooms we procured from a locals farmers market into the mix to kick the meal up a notch as well.
As the tannins in this wine were fairly mild, the rich, fat steak only did so much to work with the wine. But we did note more intense tastes of the red fruits when eating the steak and the morel mushrooms accentuated some of the subtle, earthier notes in the wine that are less obvious when drinking on its own. In that respect, this wine went quite well with the intense mushrooms.
Score: 2.5 / 5
We are okay not having more of this one but could be persuaded on a glass in the right scenario.
Overall, this was a pretty easy drinking Pinot Noir that almost borderline on what we'd call a table wine classification (although is just outside of that due to having more mellowed out flavors and barrel notes). For its price, I'm okay on this one but could be persuaded on a glass in the right situation.
Domaine Vincent Dureuil-Janthal is located in Rully, France. We purchased this wine locally and enjoyed it in 2020.