Last Updated on June 29, 2022 by Jeremy
Disclaimers: This review uses WSET Diploma terminology and our own rating scale. Read more here. We use demographic data, email opt-ins, display advertising, and affiliate links to operate this site. Please review our Terms and Conditions for more information. This website is intended for those of legal drinking age in your jurisdiction.
During my trip to eastern Washington for a conference, I was fortunate enough to sample many wineries near Tri-Cities, Washington. Naturally, as the conference was held in a wine region, many of the evening parties also included samples from various local producers as well.
As it turns out, I started to get a bit of a reputation as a wine lover during this (non-wine-related) conference and had several bottles gifted to me that ended up being leftovers from these various parties. Yes, with as much as the travel blogging community can consume, there were still bottles leftover from an event that got rained out, and Gordon Estate's Cabernet Sauvignon Reserve was one such bottle that fell into my hands purely from chance.
While I'm not terribly sold on Cabernet Sauvignon as a grape, I have to admit, this bottle was quite nice.
Gordon Estate's Cabernet Sauvignon is Immensely Drinkable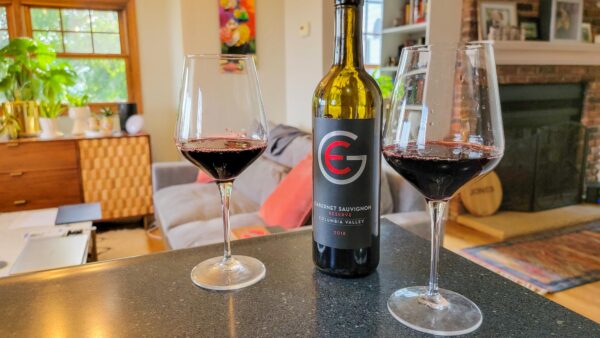 This Cabernet Sauvignon from Washington State was medium ruby in color (pushing deep), with medium(+) aromas of black cherry, black raspberry, tar, cedar, clove, vanilla, forest floor, and cassis that was developing.
On the palate it was dry with high acidity, medium(+) smooth-but-slightly-chalky tannin, body, and flavor intensity, high alcohol, and a medium finish. We got many notes similar to the nose with a much more intense woody profile of cedar, sandalwood, and perhaps even some leather on the flavor profile- items that often jump out to us as astringent in a Cabernet Sauvignon but were balanced rather nicely in this one.
While this one did drink incredibly hot for its alcohol, we really enjoyed how all the flavors ended up working together here.
Cabernet Sauvignon Food Pairing – Italian Stuffed Crepe Cannelloni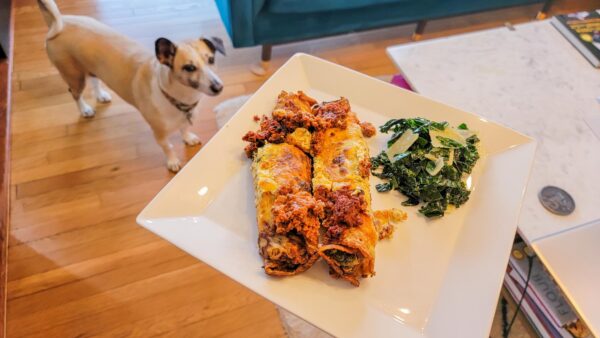 We paired this dish with an Italian cannelloni dish where the traditional noodles were replaced with crepes. The dish included a mix of mushrooms in the filling and a blend of meat-filled tomato sauce and bechamel on top.
Suffice it to say, there was a lot going on in this one.
We will be the first to admit that the wine was perhaps a bit too intense for this dish overall, but there were a few key highlights. The tomato sauce was more beef than tomato, so there was ample fat to help mask the tannins beautifully. The acidity in the sauce also helped allow for more fruit flavors to come out and mask some of the woodier notes in the wine as well.
Justice for the wine? Sure. The best pairing? Perhaps not. Something where a protein is the focal point, like a steak or pork chop, would've likely done more for this particular wine. That being said, we weren't upset with the pairing at all- but we definitely would not have done it if it wasn't for the large amount of ground beef in our tomato sauce.
Score: 3.5 / 5
We'd go for a glass of this one or a bottle in the right context.
Overall, we really enjoyed this bottle of wine. It was starting to show some signs of age but could also age for another decade without issue. If this was the bottle that helped us want to explore more cabernet Sauvignon in the future, we would not say no, and for that, we could always be open for a glass of it or, if the price is right, another bottle outright.
Gordon Estate Winery is located at 671 Levey Rd in Pasco, Washington. I received this bottle as a gift at a conference and enjoyed it in 2022.