Last Updated on June 30, 2022 by Jeremy
Disclaimers: This review uses WSET Diploma terminology and our own rating scale. Read more here. We use demographic data, email opt-ins, display advertising, and affiliate links to operate this site. Please review our Terms and Conditions for more information. This website is intended for those of legal drinking age in your jurisdiction.
If you've ever looked at our wine map and thought our sampling of Australian wine was limited, well there is a reason for that- finding interesting Australian wine in the USA is, in our local stores at least, not so great.
But we still pursue these wines all the same, and every so often we find a gem that makes us really want to explore Australia more. Ashbrook Estate's Verdelho from the Margaret River was one such wine, and as soon as we finished this bottle we really wished we had another to open right away.
A Fascinating Verdelho from Australia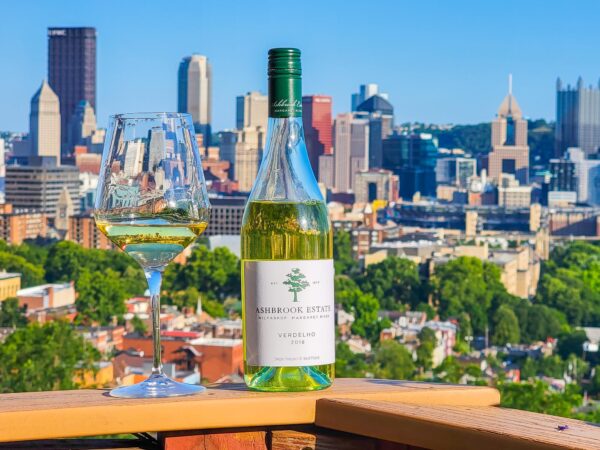 This Australian Verdelho was medium lemon in color with light effervescence. It had medium(+) aromas of peach, pear, slight petrol, grass, geranium, wet stone, and strong herbal notes as well that I couldn't quite place my fingers on. Originally I was leaning fennel, but I could be persuaded on others. The aroma was youthful.
On the palate, it was dry with high acidity, medium alcohol, medium(+) body, pronounced flavor intensity, and a long finish. We found notes very similar to the nose but less on the saline more tropical notes like perhaps guava and pineapple. A slight almond bitterness was present as well.
This is one of those wines where we detected a new flavor with every sip, and really enjoyed the complexity of this one all around.
Verdelho Food Pairing – Pasta with Garlic Scape Pesto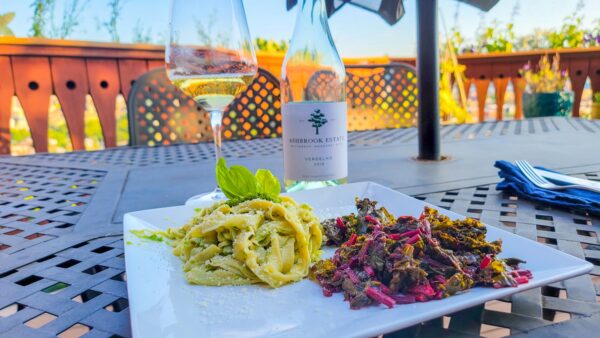 We paired this Verdelho with homemade pasta with garlic scape pesto and a side of braised greens with garlic and hot pepper flakes.
The intense, garlic-forward flavors in both dishes helped mask some of the herbal and green notes in the wine and brought out more stone fruit characteristics which were quite pleasing. The dishes were not terribly high in acid due to a lack of tomatoes, so the wine was not paired down on that front in the slightest which we appreciated. As such, this could likely go well with a very herb-forward dish.
Score: 4 / 5
We'd buy another bottle of this one.
Overall, this was a surprising bottle for its price point. It was intense, complex, and really had us going back to the glass again and again to find more flavors. We would happily drink another.
Ashbrook Estate is located at 379 Tom Cullity Dr, Wilyabrup WA in Australia. We are unsure how this bottle arrived in our cellar, but others from the producer are available on Wine.com that we hope to try in the future.