Last Updated on July 6, 2022 by Jeremy
Disclaimers: This review uses WSET Diploma terminology and our own rating scale. Read more here. We use demographic data, email opt-ins, display advertising, and affiliate links to operate this site. Please review our Terms and Conditions for more information. This website is intended for those of legal drinking age in your jurisdiction.
When we visited several Sonoma wineries on a California trip a few years ago, we made sure to stop at Iron Horse Vineyards to try their acclaimed sparkling wines. We fell in love with them and brought many bottles home with us to enjoy later on.
Most of those bottles did not last very long, but we held onto a few to give a few more years of age to for good measure. One such bottle was Iron Horse Brut LD 2010, and we decided to open it up in mid-2022 to celebrate our 10-year wedding anniversary.
It was better than we expected.
A Vintage Sparkling Wine Worthy of Age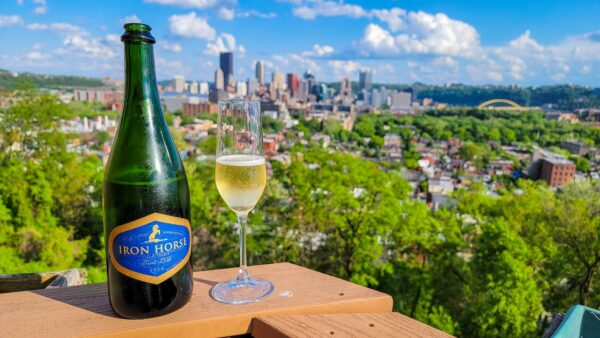 This sparkling wine from Sonoma was pale lemon in color with medium(+) aromas of bruised yellow apple, pear, quince, salinity like you'd find in oysters, almond oil, toast, dried geranium, and was developing.
On the palate, it was dry with high acidity, medium alcohol and body, delicate mousse, medium(+) flavor intensity, and a long finish. We had notes of yellow apple, pear, nectarine, quince, lighter toast and almond oil than the aroma, and honeysuckle to name a few. All of the good things we look for in an older bubbly!
Sparkling Wine Food Pairing – Charcuterie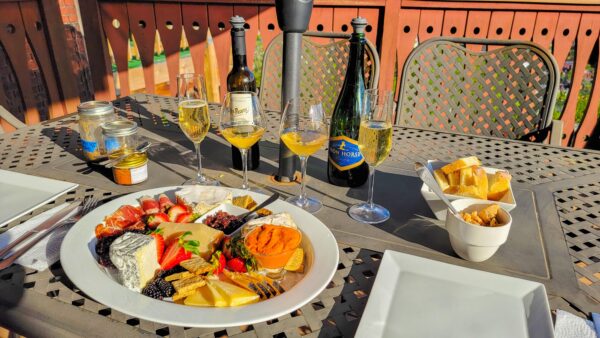 We went big for our anniversary and put together a spread of high-end cheese, meats, dried fruits, and other items on a charcuterie board. We paired it with this bubbly in particular because, well, bubbles go with just about everything and our plate was varied.
Bubbles with creamy cheese? Winner. High acid with rich meats? Yep. Contrasting fruit flavors between fig jam and the wine? You know it.
This one was really fun to pop around and see what elements of bubbly went with each specific item. While there were no major pairings that jumped out as being overtly better than the rest, it did make for an enjoyable meal all the same.
Score: 4 / 5
We'd buy another bottle of this one.
Iron Horse's Brut LD 2010 vintage sparkling wine had just about everything we'd look for in a bottle of bubbles. If we ever get our hands on another bottle we'll try and let it age even more to see how it develops!
Iron Horse Vineyards is located at 9786 Ross Station Rd in Sebastopol, CA. We purchased this bottle from the winery directly and enjoyed it in 2022.