Last Updated on September 21, 2022 by Jeremy
Disclaimers: This review uses WSET Diploma terminology and our own rating scale. Read more here. We use demographic data, email opt-ins, display advertising, and affiliate links to operate this site. Please review our Terms and Conditions for more information. This website is intended for those of legal drinking age in your jurisdiction.
When I decided to sign up for WSET Diploma, I knew I'd have to go sparkling heavy when in the D4 module.
As I have the least experience with all things bubbles, this meant finding new styles of wines to try outright (although not necessarily new grapes per our quest).
So early on in this module, I decided to go for Jean-Baptiste Adam Brute Rose- a Cremant d'Alsace made in the traditional method with a little bit of skin contact from my favorite region in France!
It was every bit what I hoped for.
Sparkling Rose Wine in the Traditional Method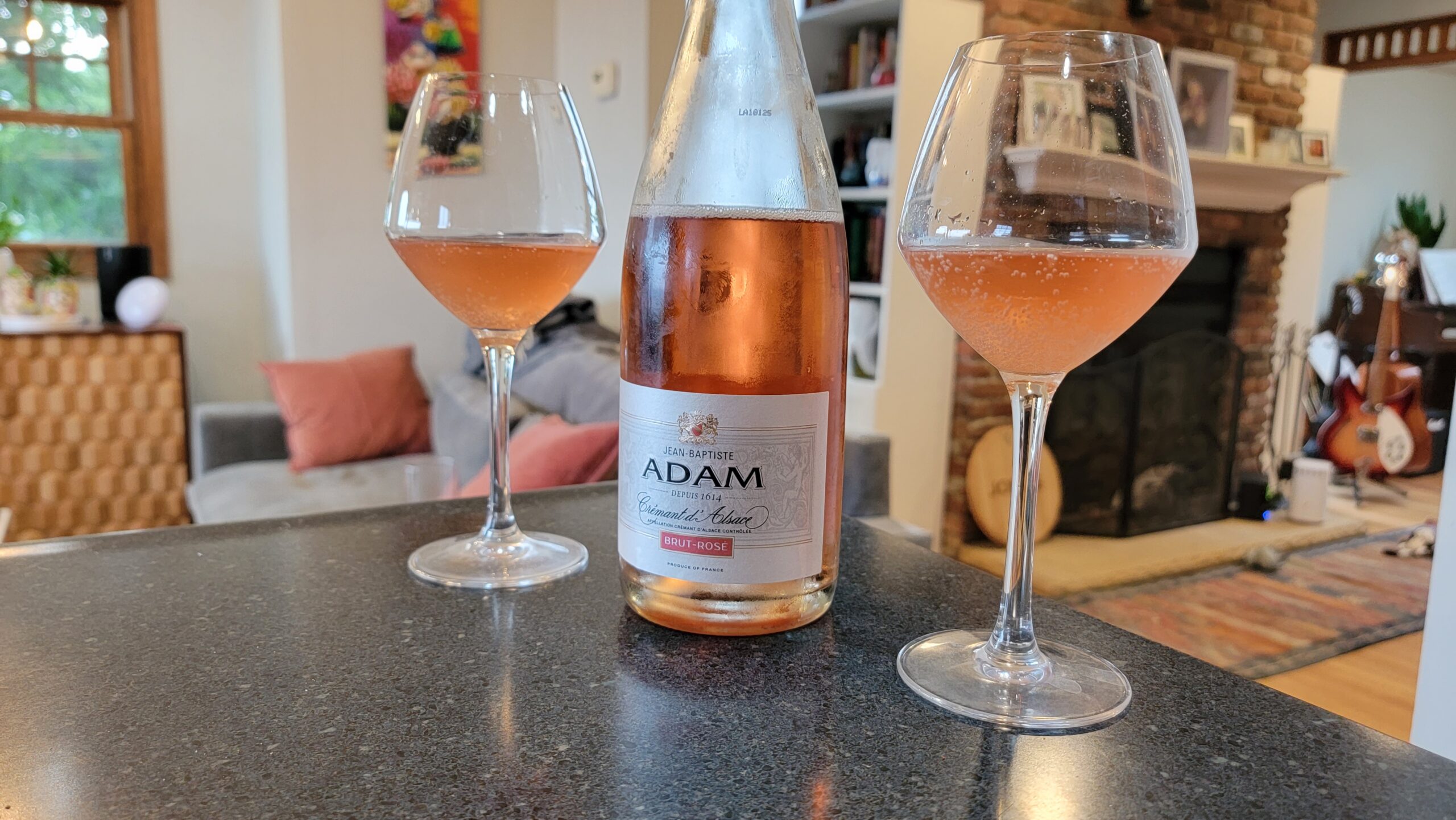 This Rose Cremant d'Alsace was medium pink in color with medium aromas of watermelon, raspberry, light strawberry, red cherry, toast, brioche, and orange peel.
On the palate, it was dry with medium(+) acidity, body, and flavor intensity, creamy and delicate mousse, and a long finish. All of the same fruit notes from the nose were found here plus watermelon rind and grapefruit. Lees notes were very minor relative to the nose with only hints of toast and yeast and perhaps a slight yogurt note as well. A lovely and complex bubbly for summer all around!
Cremant d'Alsace Rose Food Pairing – Tandoori Salmon and Naan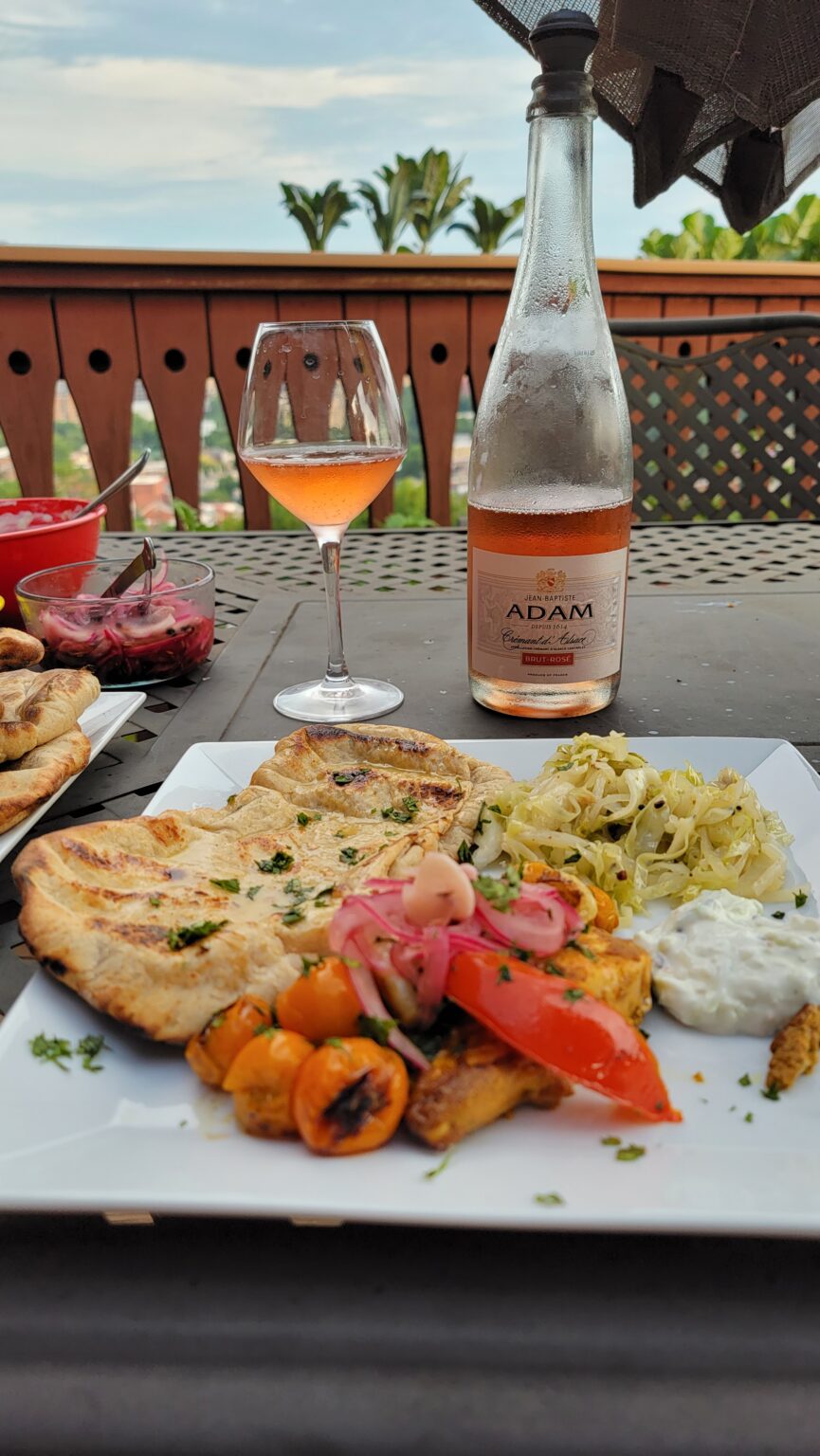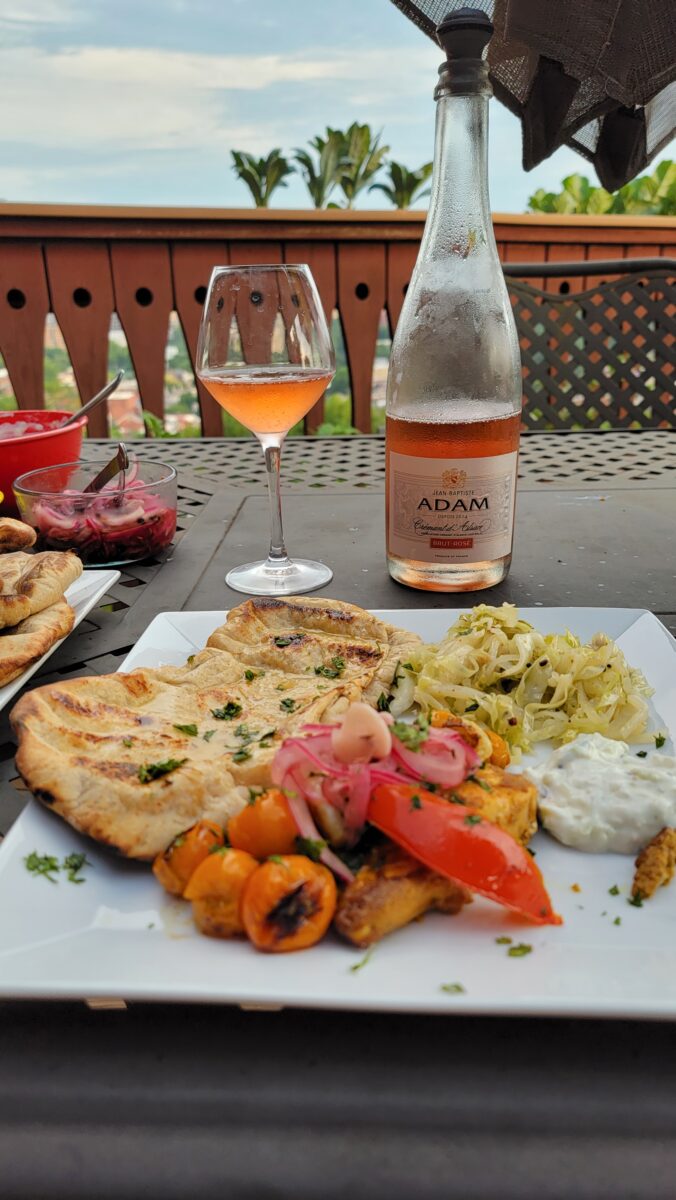 We paired this sparkling rose with tandoori-style salmon cooked with a side of homemade naan (both cooked in our Ooni Koda).
While the dish was mild in its heat, we appreciated how all of the Indian spices brought out more of the lighter strawberry and raspberry notes, plus increasing the watermelon rind characteristics ever-so-slightly.
It is a bit redundant to say that both rose and sparkling wines go with, well, everything and this pairing didn't let us down- if only because the base wine is so versatile to begin with.
Score: 4 / 5
We'd buy another bottle of this one.
When it comes to rose wines, we are always fans of those prepared in the traditional method with nice lees notes to balance out the fruit-forward characteristics. This one had a nice balance of fruit, minerality in the form of watermelon rind, and light lees characteristics all around. As such, we'd be happy having another bottle of this one.
Jean-Baptiste Adam is located at 5 Rue de l'Aigle, 68770 in Ammerschwihr, France. We purchased this bottle locally and enjoyed it in 2022. At the time of publishing, this bottle was available on Wine.com as well.