Last Updated on March 2, 2021 by Jeremy
Disclaimers: This review uses WSET Level 2 terminology and our own rating scale. Read more here. We use demographic data, email opt-ins, display advertising, and affiliate links to operate this site. Please review our Terms and Conditions for more information. This website is intended for those of legal drinking age in your jurisdiction.
The Lafken Cabernet Sauvignon came from the winery's vineyard in the Maipo Valley of Chile. In being our first Cabernet Sauvignon from Chile, we were pretty excited to see how the flavors of the bottle would express itself compared to those from more well-known regions like California and Bordeaux.
While one bottle may not be enough of a representation to make general comparisons, we have to admit we like what we tasted here.
Dark Fruit and a Little Earthy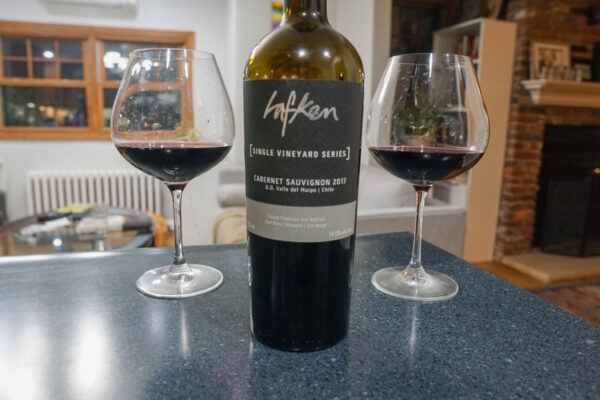 The wine was deep purple in color and had a medium bouquet with aromas of blackberry, plum, black cherry, perhaps a tish of forest floor, star anise, and a strong wood note possibly of cedar.
On the palate it was dry with medium acidity, high tannins, and medium alcohol, body, and flavor intensity. Notes of plum, a lightly jammed bramble, and star anise notes came through with a bit less earthiness than on the nose. We appreciated that this one was not as jammy as, say, a California Cab, but definitely had just a hint coming out with the dark fruit.
Lafken Cabernet Sauvignon Food Pairing – Boeuf Bourguignon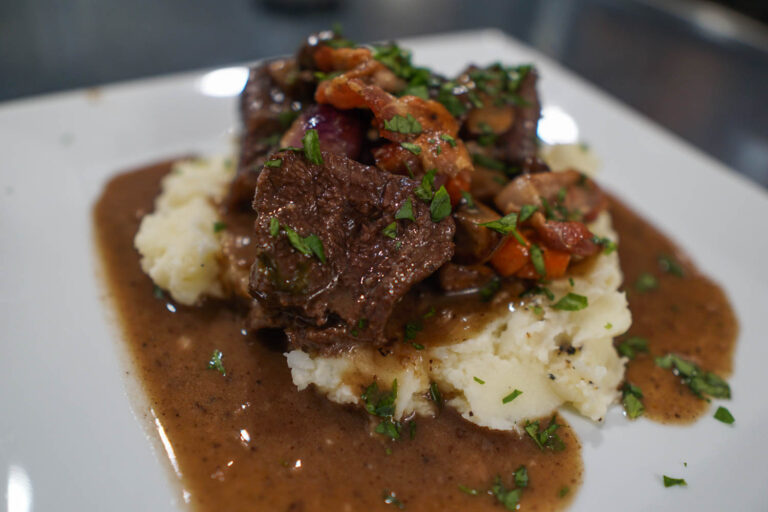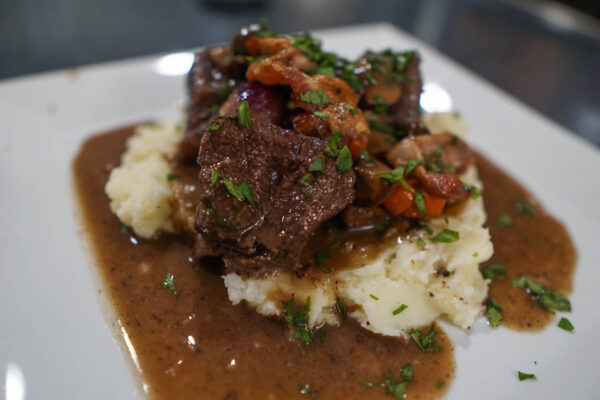 We had a hard time picking a wine pairing when we made boeuf bourguignon if only because we did not feel inclined to open one of our Burgundy wines to pair with the dish (partly because it was our first time making it and we didn't know how it'd turn out). In doing research on the wines in our cellar, this popped up for having some appreciable tannins while also being less jammy and having some earthy notes.
These actually ended up pairing quite well with the intense beef, and the minimal jamminess of the wine was key here.
I can see why the traditional pairing of these is Pinot, as is the case of Burgundy reds, as a wine with a stronger red fruit would likely hit the flavor notes in this dish perfectly. But for something a bit different, a higher tanning wine with black fruit flavors worked well all the same.
Score: 3.5 / 5
We could be persuaded on a glass of this one and perhaps a bottle in the right circumstance.
Overall, this was a pretty delicious Cabernet Sauvignon and was our first from Chile. We quite enjoyed the strong dark fruit flavors without being too jammy which helped it pair well with an intense beef dish like boeuf bourguignon. As such, we would be happy with a glass or possibly bottle of this one.
Lafken is located in the Maipu Valley of Chile. We purchased this bottle from Wine.com and enjoyed it in 2020, but at the time of publishing it was out of stock.