Last Updated on January 1, 2021 by Jeremy
Disclaimers: This review uses WSET Level 2 terminology and our own rating scale. Read more here. We use demographic data, email opt-ins, display advertising, and affiliate links to operate this site. Please review our Terms and Conditions for more information. This website is intended for those of legal drinking age in your jurisdiction.
We always like to celebrate when we book vacations- often in the form of takeaway from a restaurant focusing on said country's cuisine. But when we booked a trip to visit Georgia in 2021, we opted to go a different route- wine.
I rushed out to a local wine store that I knew had a great stash of Georgian wine and picked up a bottle of Vine Ponto's Rkatsiteli 2015. After a brief chill, we opened the bottle and, well, we were a bit surprised!
A Wonderful Aroma on this Orange Rkatsiteli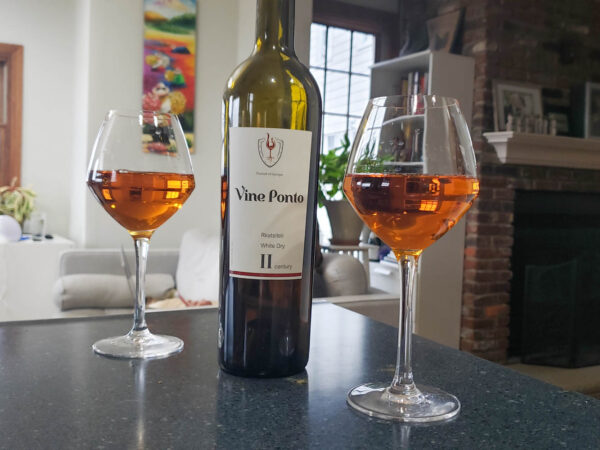 As you can see from the photo above, this wine is orange. Deep orange. The wine gets its color by being fermented with the skin on and, thanks to its sufficient age, had a wonderful pronounced aroma of honey, dried apricot, golden raisin, and oak characteristics like you would expect from a bourbon (including wood and vanilla).
In fact, if you would've said this was a barrel-aged mead we would've bought it. The smell was intoxicating.
On the palate this wine was dry with medium acidity, low tannin, medium body and flavor intensity, as well as a medium finish. Flavor notes included orange peel (notably pith), dried apricot, a bit less honey than the nose, and an astringency likely due to the fact that the wine was fermented with the seeds as well.
At first we were disappointed the wine was not as complex as the aroma (again, barrel-aged mead scent), but as we let it breathe, drank more, and paired it with food this wine really grew on us.
Vine Ponto Rkatsiteli Food Pairing – Thai Takeaway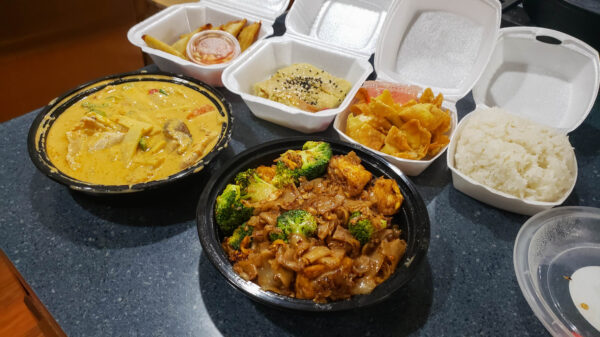 We paired this food with Thai takeaway from one of our favorite restaurants in our neighborhood. As is customary when ordering Thai, we picked up a boatload of food including pad see ew, curry, and more.
The winning pairing here was, without a doubt, the curry. The creaminess of the coconut milk here helped cut a lot of the astringency we noted in the first few sips, and really let some of the more delicate flavors come out. Likewise, while we would say that the spiciness of Thai at large brought out more heat in the alcohol, it wasn't too overbearing such that it took away from the pairing (although this is personal preference).
Score: 3.5 / 5
We'd buy a glass of this one and could be persuaded on another bottle based on price.
Overall, we were pretty pleased with this bottle and would gladly have a glass of it- especially with the right food pairing. We are especially looking forward to trying more Rkatsiteli between now and when we visit Georgia, and it was a great first varietal to try from the country!
Vine Ponto is located in Kikheti, Georgia. We purchased this wine from a local store and enjoyed it in 2020.