Last Updated on August 18, 2023 by Jeremy
Disclaimers: This review uses WSET Diploma terminology and our own rating scale. Read more here. We use demographic data, email opt-ins, display advertising, and affiliate links to operate this site. Please review our Terms and Conditions for more information. This website is intended for those of legal drinking age in your jurisdiction.
I have to admit, I did not know that Long Island grew grapes until taking WSET Diploma, and ever since I have been fascinated by one particular spot- the North Fork of Long Island.
The reason for this is because the north fork is said to be protected a bit from Atlantic influences by the Hamptons, and, as such, becomes a prized spot for grape growing.
So when we got our hands on a Pinot Blanc from Lieb Cellars as part of our Picked by Wine.com subscription, we were quite excited to try it!
High Acid Pinot Blanc from Long Island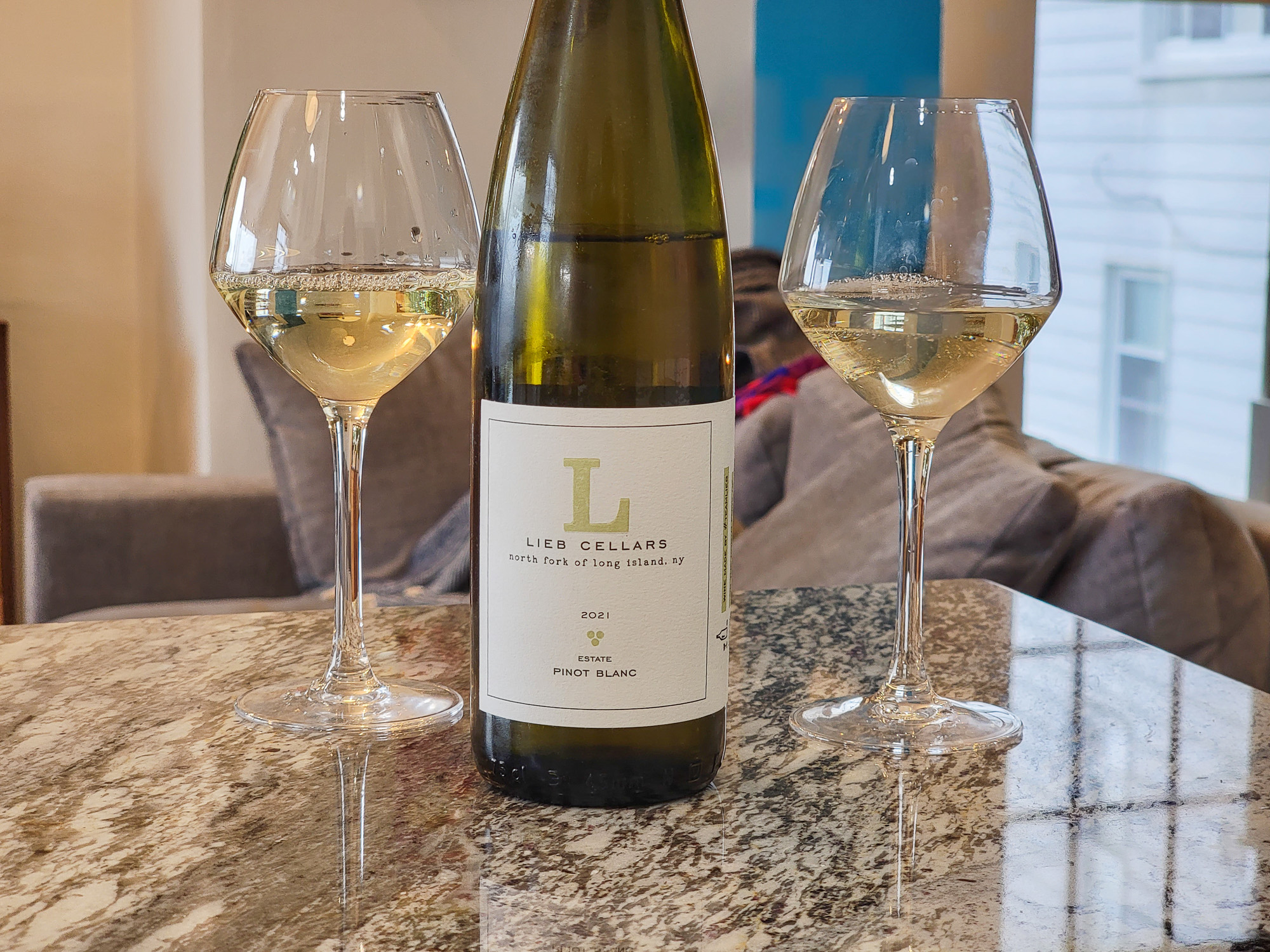 This Pinot Blanc was pale lemon in color with medium aromas of peach, nectarine, grapefruit, lemon, lime, peach rings, saline, and lime zest.
On the palate it was dry with high acidity, medium alcohol and flavor intensity, and medium(-) body and finish. We detected notes a lot like the nose including lemon, lime, lime zest, grapefruit, peach rings, wet stone, and white blossom.
Although we quite liked the citrus flavors in this one with its nuanced salinity and floral notes, the acidity on this one was so high that we could make an argument it was a bit out of balance. That said, as Angie is a big fan of high-acid wines, she also wasn't complaining too much on that end, too.
Pinot Blanc Food Pairing – Salmon with Dill Sauce
We paired this high-acid Pinot Blanc with a salmon filet topped with a dill sauce as well as deep-fried squash blossoms stuffed with cheese.
The fattiness of the salmon helped offset some of the acidity and tempered some of the citrus notes, bringing out more stone fruit characteristics we did not notice when drinking by itself. Even with that, the citrus notes and high acidity found its way back in for a zippy pop at the end all the same. The squash blossoms had a similar effect as well due to the oil in the fry and fat in the cheese, and was perhaps even more prominent of a flavor shift than with the fish!
Score: 2 / 5
We're okay on this one.
Although we quite enjoyed the flavor notes on this one, the higher-than-expected acidity and shorter finish on this one made this one a splash of intense flavor that faded quickly. Although it can likely pair with many dishes thanks to its pleasing flavors and acidity, we're also okay on this one.
Lieb Cellars is located at 13050 Oregon Rd in Cutchogue, NY. We received this bottle in our Picked by Wine.com subscription and enjoyed it in 2023.