Last Updated on February 26, 2021 by Jeremy
Disclaimers: This review uses WSET Level 2 terminology and our own rating scale. Read more here. We use demographic data, email opt-ins, display advertising, and affiliate links to operate this site. Please review our Terms and Conditions for more information. This website is intended for those of legal drinking age in your jurisdiction.
A few months back we were fortunate enough to try Wines of Illyria Vranac and really enjoyed this red varietal from Bosnia.
While we received that particular bottle as a gift, we were pretty pleased to find a full spread of wine from Wines of Illyria at a local liquor store with many new varietals to us (a great win for our quest). Naturally, I picked up a bottle of the Wines of Illyria Stone Cuvee as it was made with 90% Zilavka and 10% Bena- two new grapes for us.
While this one was not as pleasurable as the Vranac, we have to admit it had some nice stone and tropical fruits all the same with a strong, lingering minerality on the finish.
Stone and Tropical Fruit with Some Minerals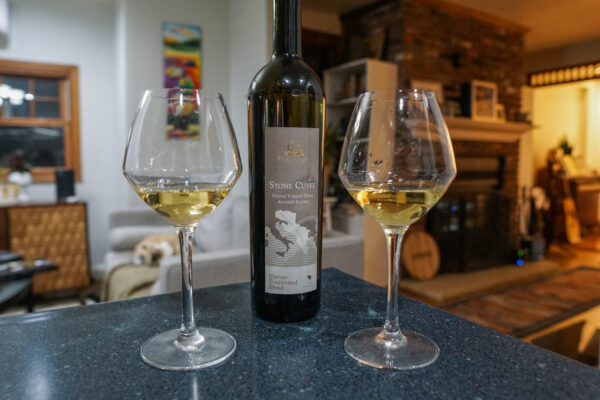 This white blend was medium lemon in color and had a medium aroma of apricot, white flower, peach, yellow apple, pineapple, stone.
On the palate, it was dry, with medium+ acidity and medium alcohol, body, and intensity of flavor. We detected notes of underripe apricot, grapefruit as well as its pith, and some lychee as it opened up. The finish was primarily a wet stone minerality and the fruit components fell off pretty quickly, so we'd likely call this one short.
In a way, the abundance of minerals in this one made it a bit out of balance from the fruit overall.
Food Pairing – Moroccan Couscous with Root Vegetables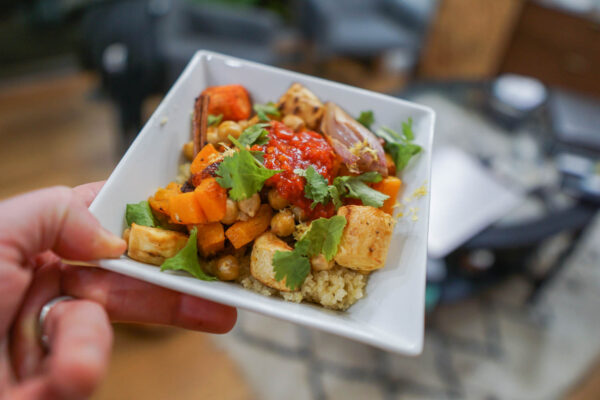 We paired this white blend with a homemade middle eastern bowl with couscous, roasted root vegetables, harissa, parsley, and more.
The richness of the dish helped bring out baking spice notes we previously did not detect in the bottle, but also heightened the minerality. We have to admit we did not expect such high minerality in the bottle and in retrospect probably would not have paired it with a dish that is as intensely rich as this one.
So we're going to call this pairing good, but not great.
Score: 2 / 5
We're okay on this one.
Overall, there may be a time and a place for this one if only just because the minerals were a bit too intense for us. Good but not great is probably a great phrase here. We'll definitely try more of the varietals, but may pass on this one again.
Wines of Illyria produces their wines in Bosnia & Herzegovina. We purchased this bottle locally and enjoyed it in 2021.