Published Jeremy. Last Updated on January 25, 2023.
Disclaimers: This review uses WSET Diploma terminology and our own rating scale. Read more here. We use demographic data, email opt-ins, display advertising, and affiliate links to operate this site. Please review our Terms and Conditions for more information. This website is intended for those of legal drinking age in your jurisdiction.
After visiting wineries in Sonoma, we fell in love with one particular producer of Pinot Noirs- Arista.
We liked their Pinot Noirs so much that we joined their club, and after ordering many bottles we decided to expand our cellar to include some of the winery's acclaimed Chardonnays as well. One of the first ones we opened was the Arista Russian River Valley 2018 which shines almost as much as their acclaimed Pinots!
A Balanced California Chardonnay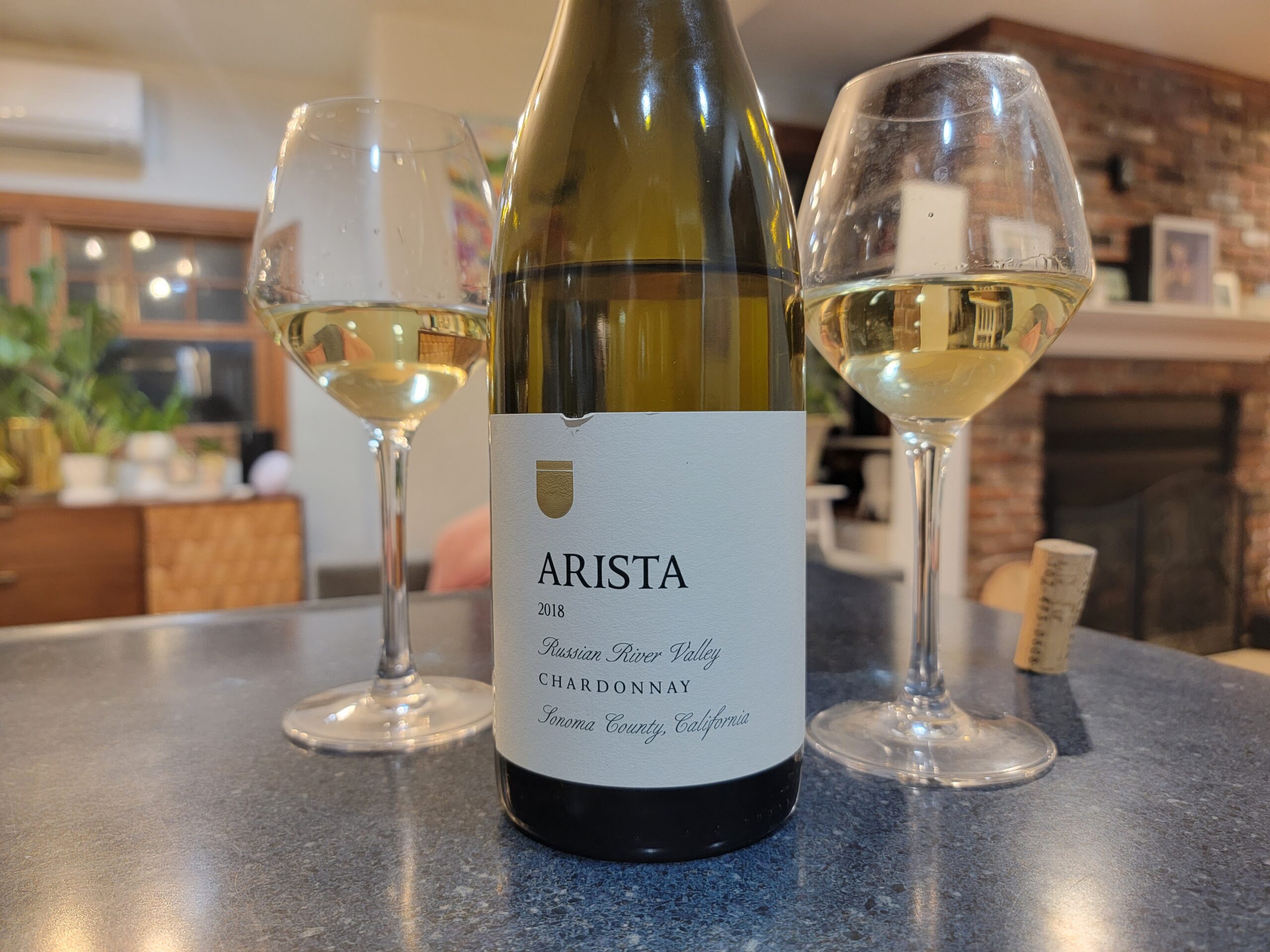 This Chardonnay from Arista was deep gold in color with medium aromas of apricot, lemon, lime, peach skin, saline, light cream, toast, geranium, almond, grapefruit, and pineapple.
On the palate, it was dry with high acidity and alcohol, medium(+) body and flavor intensity, plus a long finish. We detected notes of lemon, lime, peach, nectarine, ripe pineapple, grapefruit, saline, cream (more a mouthfeel than flavor), vanilla, and light toast.
While we would say that this bottle was exceptionally fruit-forward, we have to admit we liked the minor hints of oak and malolactic fermentation in this one. As California producers are notorious for leaning into these two styles hard, it was refreshing to have a more restrained bottle all around.
Chardonnay Food Pairing – Scallops and Mushroom Spinach Risotto
We paired this delightful Chardonnay with seared scallops on top of mushroom and spinach risotto (which, sadly, I forgot to get a photo of). The sweetness of the scallops helped some of the tropical notes in the wine pop while the creaminess of the risotto helped accentuate some of the mineral characteristics in the wine as well. A fun one to try all around!
Score: 3.5 / 5
We'd buy a glass and a bottle of this one in the right circumstances.
While we really liked this bottle for being restrained in its oak and malo, for its price we perhaps could have wanted something slightly more complex. That being said, we would gladly have a glass and a bottle in the right context and look forward to trying more Arista Chardonnay from other vineyard plots in Sonoma!
Arista Winery is located at 7015 Westside Rd in Healdsburg, CA. We purchased this bottle from Arista's wine club and enjoyed it in 2023.