Published Jeremy. Last Updated on January 1, 2021.
Disclaimers: We use demographic data, email opt-ins, display advertising, and affiliate links to operate this site. Please review our Terms and Conditions for more information. This website is intended for those of legal drinking age in your jurisdiction.
While we have a pretty good handle on everything that can be found in our cellar, sometimes we get a bit of surprise. In many cases, this is simply finding a bottle that we thought we had already consumed. Other times it is finding out a bottle does not contain the grapes we expected. In even rarer instances, we find that a bottle is much, much older than we had originally thought.
Our Bodegas Olivares Panarroz Jumilla (GSM blend- mostly Mourvedre) was the latter. We bought this one on an impulse because we saw it was on a clearance sale from a local wine store for $8. Instinctively I saw this and bought it without thinking much at the time because, well, it was $8. But it wasn't until we went to drink it that we realize this bottle was also nine-years-old.
A pleasant surprise indeed.
An Old Bottle Full of Dried Fruit, Jams, and Herbs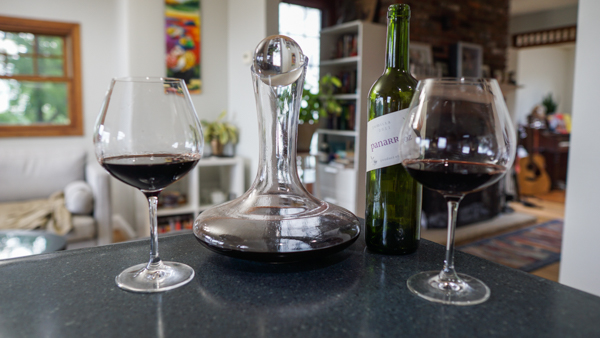 As soon as this wine came out of the bottle, we were intrigued. The deep garnet color suggested this was an aged wine, and the scent was faint with only notes of tobacco and a slight savoriness that we couldn't put our fingers on. We looked at the label, saw the age, and then things started to make sense (and we were quite overjoyed at the same time).
As the wine opened up, we caught notes of dried herbs and a jammy prune as well which was quite the unique aroma combination.
Our first sip was a bit of a surprise as there was still a fair bit of acidity in the bottle and the wine offered a perfect balance of herbs and red fruit. After decanting for a while, we got notes of dried prune, dates, and a bit of raisin and overall made for a really well-balanced bottle.
Bodegas Olivares Panarroz Food Pairing – Homemade Burgers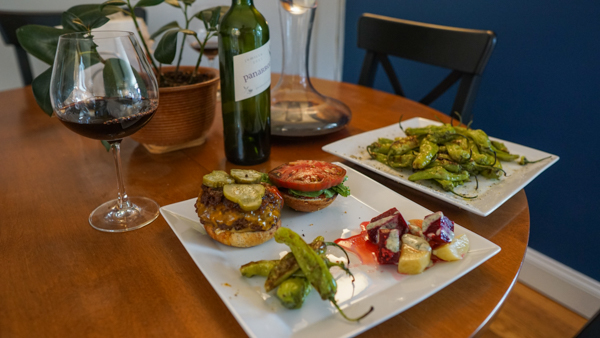 Our homemade burgers are nothing to scoff at- hand-ground blends of sirloin, beef bacon, and neck make it a fatty delight. We topped them with cheddar cheese, tomato, lettuce, caramelized onion, ketchup, and mustard on homemade sourdough buns for a classic burger all around.
Since we did not realize that this wine was aged, we had selected our meal purely to get a fatty burger to offset what we presumed to be a high acidity wine. Thankfully, there was a decent amount of acidity in the bottle overall and it paired deliciously with the burger and expressed more fruit notes with every sip.
Just about the right age for burgers, but could've definitely stood up to stronger meat dishes at the same time.
Score: 4.5 / 5
We could be persuaded to have several bottles of this on hand.
Our score for this one comes with a bit of a caveat- we got the 9-year-old bottle for $8 on clearance. For that price point, it exceeded all expectations and I'd gladly go buy the stock of the clearance bottles if they were still available. Push that price range higher, say, north of $25 (or perhaps a younger vintage), and we may knock this score down slightly despite still enjoying the wine.
Bodegas Olivares is located in Jumilla, Spain. We found this bottle in a local wine store and enjoyed it in 2020.