Published Jeremy. Last Updated on January 1, 2021.
Disclaimers: We use demographic data, email opt-ins, display advertising, and affiliate links to operate this site. Please review our Terms and Conditions for more information. This website is intended for those of legal drinking age in your jurisdiction.
We're quickly becoming fans of Chardonnay from South Africa, and when we purchased an assortment of bottles from a local wine shop, we were intrigued by the offerings from Richard Kershaw Winery.
Part of this is simply because we like this varietal from the country. But the other part was that Kershaw focuses on single clonal grapes in isolated growing regions similar to what one of our favorite US-based wineries, Boundary Breaks, does for Riesling. So we picked up a bottle of the GPS Series from the Lower Duivenhoks River and paired it with a lovely sous vide salmon dinner.
A Tropical Chardonnay with a Hint of Mineral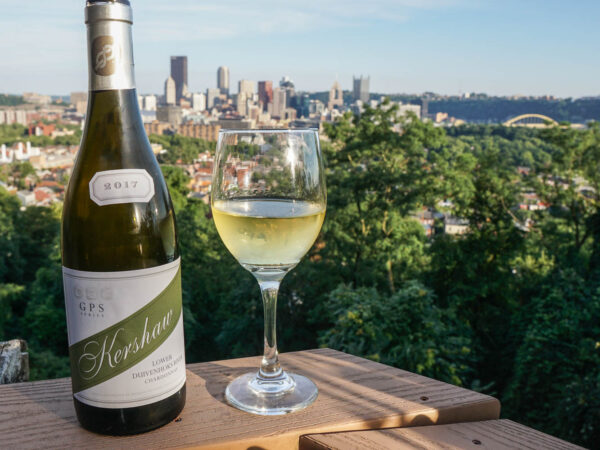 This pale yellow wine has a pretty interesting aroma. Upfront you get tropical fruit like pineapple, something a bit more mellow like guava or papaya, and citrus, which then gives way to a mineral finish.
When sipping, it has a medium acidity that we actually thought was somewhat subdued from our expectations and strong notes of lime, pineapple, and other tropical fruits. The finish on its own had the same flint-like minerality as the nose, but with fats in our food below expressed some lingering vanilla as well as some of the only barrel characteristics that come through.
We read that Chardonnays here are produced with spontaneous fermentation, but this bottle did not have any noticeable wild notes we've come to expect from this fermentation process. So if this bottle was done as such, call us surprised.
Still, a really solid Chardonnay all around- especially for those who don't like the strong presence of oak in their glass.
Kershaw Chardonnay Food Pairing – Sous Vide Sockeye Salmon with Mashed Potatoes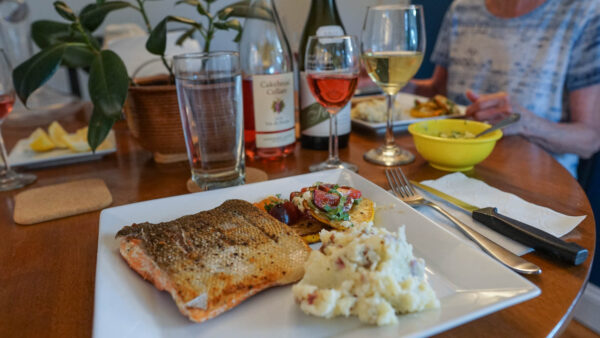 We love pairing Chardonnays with fish and decided to pair this tropical wine with sous vide salmon served medium rare with a pan sear and topped with an herb garlic butter.
Recipe: Generously salt and pepper the fish and place in a bag with a tablespoon of olive oil, a tablespoon of butter, herbs (thyme, dill, basil), and lemon zest and refrigerate for a minimum of 60 minutes to brine. Sous vide at 115-125 degrees F (ranging rare to medium) for 45-60 minutes depending on thickness, remove from bag, then sear in a blazing hot cast iron for 90-120 seconds. Serve immediately with compound butter and lemon wedges.
The richness of the fish paired well with this wine's acidity and appeared to minimize some of the mineral notes on the finish, whereas the butter on top (and butter-rich mashed potatoes) seemed to help bring out a lingering vanilla note on the finish. Call us fans of meaty fish with South African Chardonnay!
Score: 3.5 / 5
We'd buy a glass of this and perhaps a bottle in the right context.
Overall, Kershaw's Chardonnay from the Lower Duivenoks River is simply wonderful and continues our trend of really enjoying South African Chardonnay. However, its price point north of $60 made this one a bit more expensive than we'd like when other bottles, like Ataraxia's Chardonnay, are equally stellar for half the price. So would we want to have a bottle of this on hand? Definitely. But the price gives us a moment of pause over anything else.
Kershaw Winery is located at Elgin in South Africa. We purchased this wine from a local distributor and enjoyed it in 2020.