Published Jeremy. Last Updated on February 13, 2021.
Disclaimers: We use demographic data, email opt-ins, display advertising, and affiliate links to operate this site. Please review our Terms and Conditions for more information. This website is intended for those of legal drinking age in your jurisdiction.
If you are in the mood for an unusual wine that is fermented naturally and unfiltered, the Louis-Antoine Luyt Gordo Blanco from Chile is for you.
First off, this wine is a blend of Muscat of Alexandria, Torrontes, Semillon, and Chasselas- a pretty unique combination we've seen come out of South America. Second, the natural fermentation, skin on, and no filtering make for a very intriguing offering all around.
A Funky, Wild Wine from Chile
This pale yellow wine is interesting as it is a bit cloudy as well thanks to being wild and unfiltered- you may want to decant this one due to significant sediment. The aroma of this one is quite minerally with a sweetness like you'd expect from a sparkling Moscato. Notes like peach and flowers are present, and the more you let this one open intense notes of camphor and eucalyptus become prominent (which may be borderline offputting to some).
When sipping, you'll first note a medium-to-high acidity followed up with a strong lemon-lime flavor and a not-insignificant amount of minerals on the palate. We used the expression "this is Sprite-y" as it was somewhat reminiscent of the popular soft drink. We did not pick up much in terms of wild notes due to its fermentation style, which we actually appreciated being absent despite liking the conventional wild flavors overall.
Louis-Antoine Luyt Gordo Blanco Food Pairing – Takeaway Chicken Sandwich and Banh Mi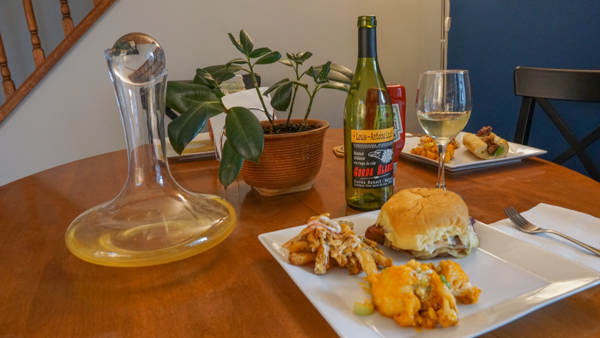 We really weren't sure what to pair this wine with before opening it, and after tasting it especially so. As such, we went with a takeaway pairing of a chicken breast sandwich as well as an Americanized take on the Vietnamese dish banh mi.
The higher acidity of the wine stood up to these somewhat strong dishes and the fat in the meats helped highlight more of the mineral notes we tasted in the glass. Was it an optimal pairing? Probably not, but we weren't upset with it at the same time.
Score: 2.5 / 5
I'd buy a glass of this in the right context.
Overall, the Louis-Antoine Luyt Goda Blanco is a weird wine. If you could taste this one without smelling it, the lemon-lime notes and high acidity made for a tasty sip. However, as more of the eucalyptus and camphor notes came out on the nose it was hard to ignore at the same time- especially for its price.
Louis-Antoine Luyt is located in the Maule Valley of Chile. We purchased this bottle from a local supplier and enjoyed it in 2020 but were unsure of the vintage. Other wines from this producer are available on Wine.com but we did not see this bottle specifically.
Looking for more reviews from Louis-Antoine Luyt? Check out our review of the Pipeno Carrizal!