Last Updated on March 3, 2023 by Jeremy
Disclaimers: We use demographic data, email opt-ins, display advertising, and affiliate links to operate this site. Please review our Terms and Conditions for more information. This website is intended for those of legal drinking age in your jurisdiction.
If you have ever studied for a wine course, known someone studying for a wine course, or even watched documentaries about people studying for wine certifications (the Somm movies come to mind), odds are good you have encountered flashcards.
These ubiquitous pieces of paper have been synonymous with fact-based memorization techniques for generations- partly because they work but also because they are cheap and easy to make.
For wine exams, where you often have to memorize many keywords (often in other languages), geographies, weather patterns, laws, and more, flashcards are incredibly useful for a quick and continual reminder of topics you may be struggling with before your exam.
But with that being said, I have a confession to make- I've never made a single flashcard for any of my wine exams. 
Instead, the digital flashcard service Brainscape was recommended to me for my WSET Level 2 exam, and I've been hooked on the service through to the Diploma modules. So today, I thought I'd share a bit more about why that is and why the modest monthly fee can be a game-changer for studying.
Note: It is important to highlight that Brainscape is a flashcard service, not a wine program, and they are not associated with WSET. The website simply has a wealth of wine decks available for those in the WSET program which are created by 3rd parties. We may use terms interchangeably in this post but want to be clear about this upfront. Likewise, all photos are direct screenshots of Brainscape.
Brainscape Review – Wine Flash Cards You Don't Have to Make

Let's just cut straight to the bottom of why I don't make flashcards- I'm lazy.
Okay, fine, it isn't just that I am lazy, but also because making time cards is incredibly time-consuming. I will not argue with the fact that making flashcards is a good mechanism for learning (writing out facts, in general, always does help). But I will argue that making 500-2,000 cards for any given WSET module may not be a good use of your limited study time.
The above range is based on Brainscape's listed flashcard count. WSET Level 2 had 786, WSET Level 3 had 1,915, and select Diploma Modules ranged from 453 to 929 cards at the time of publication. (Note: a few Diploma Modules here were not on Brainscape as of publication, particularly D2, D3, and, naturally, D6.)
At a brisk pace of just one minute per card, making those same stacks of flashcards will take anywhere from eight to 30+ hours per module. If you are slower, which most people likely will be, you're looking at allocating anywhere from 10 to 80+ hours to make your flashcards- and that doesn't even include subsequent study time! As modules may last anywhere from six weeks to 12 weeks, it seemed unwise to waste precious time writing out this many cards.
On Brainscape, other students have already done this laborious step for you.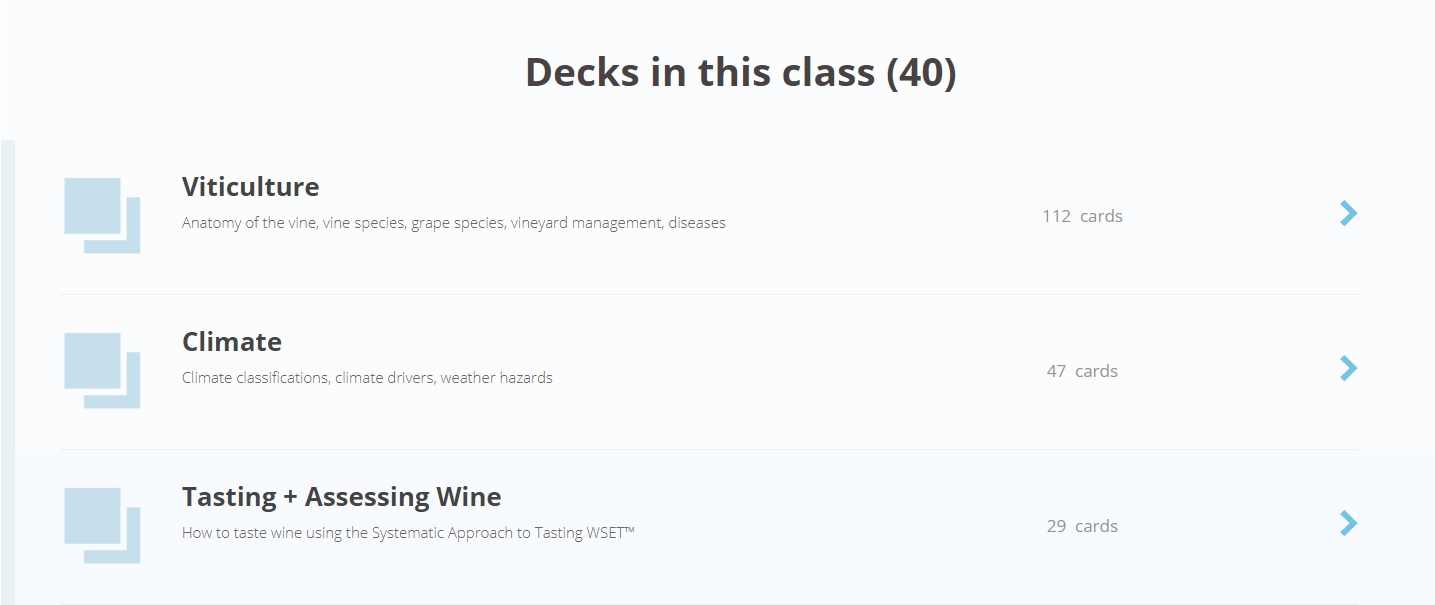 In all of the modules I have tried, you can tell that the creators have translated virtually every fact from the book into a flashcard. Some of these may be easy points you already remember, and others may be much more obscure (which are very fair for test day!). Even better is that the Brainscape Certified Classes (the only ones we will overtly recommend studying from) have all been verified to be created by those with significant wine education experience outright in WSET and other programs.
As such, for its nominal fee (~$20/month for one month or $100/year for annual or $200 for lifetime access at the time of publication), it was a no-brainer for me to sign up and say thank you for saving me the 10 to 80+ hours per module.
It is supremely important to only work through modules marked Brainscape Certified Class. There are dozens upon dozens of non-certified decks on Brainscape and, while possibly good, you run greater risks in trusting the material over certified options. We will discuss some risks at the end of this one to highlight this issue more.
The System Lets You Rate Questions Based on Your Knowledge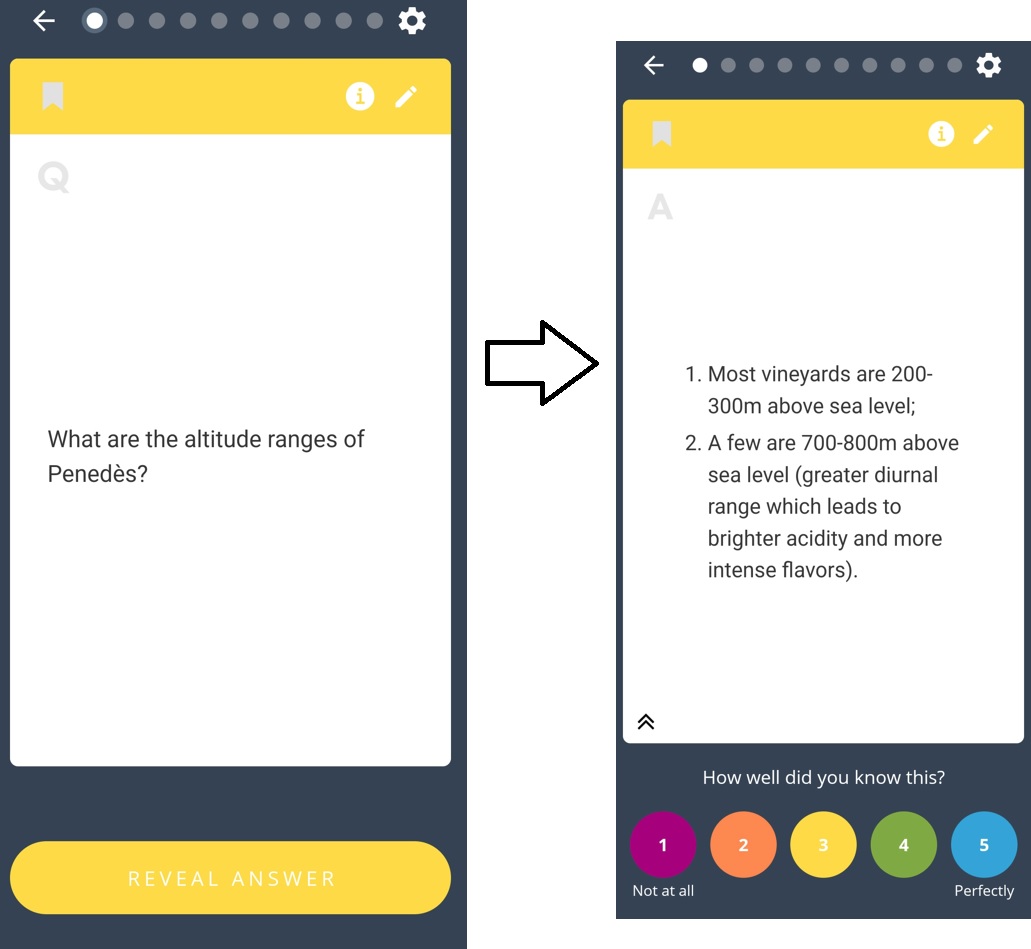 So, how does Brainscape work, exactly? Honestly, the service's functionality is perhaps the star feature outside of having WSET material available outright.
When you load a module, you can study via themed slide categories (e.g. viticulture vs climate in WSET D1) or select to be given cards from the entire collection shown at random. Each card is then given to you on the prompt side (either in the form of a question, fill in the blank, or asking for a list format- e.g. "what is botrytis?" or "list five climate concerns in Champagne"), and after thinking you can click forward to see the answer on the "back" of the card to see how your knowledge stacked up.
It is important to note that there is no way to input an answer to check for correctness here. These are digital flashcards after all. So forming an answer is on you outside of the app (i.e. in your head or on paper in front of you).
The element that makes Brainscape work here is that after you see an answer you can rate your knowledge on a color-coded scale. The lowest tier roughly translates to "I don't know this at all," the highest tier is "nailed it, do not need to see again!", and a few middle tiers exist in between for logging partial understanding.
When studying the slides at random, Brainscape then uses these ratings to show you repeat questions over time. When you rate a card on its lowest tier, you'll see it come up again and again. When you rate a card on its highest tier for full understanding, you may not see it until you finish the slide deck and start over.
I don't think I learned what "prise de mousse" was in sparkling wine until a day before my exam, and it was only from seeing it 375 times on Brainscape that it finally connected. Ah, a tradename for a yeast strain!
This feedback loop was quite valuable to me from a repetition angle; however, how much benefit you get on it is really on you to engage in the honor system with how well you truly know the cards.
I was strapped for time in D4, for example, and listed all my answers as either full understanding or no understanding (if I am being honest that was actually a fair reflection- I struggled in that module). What ultimately happened was that the cards I hit the lowest tier would come back again, and again, and again- so much so that I found myself marking them at higher understanding to see them less frequently when I very much did not retain the knowledge.
So while there are some features to Brainscape I would like to see improved, like being able to mark cards to set aside or the ability to only see cards in a specific rating, I do like how they attempt to weave back in questions you struggle with over time. It may be a bit aggressive to my liking, but the feedback loop is generally quite good overall and loosely reflects how I would study with tangible cards. That being said, this program is only as smart as you make it- so be honest when rating your knowledge after each question.
A Word of Warning – The Accuracy is Not Perfect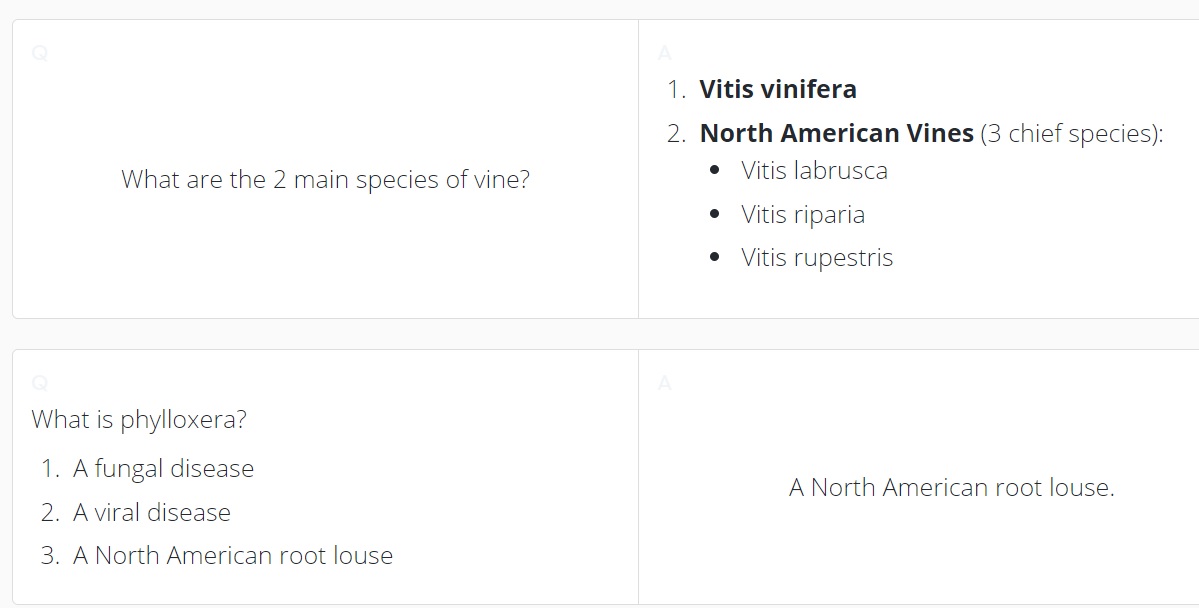 Finally, there are some downsides to using Brainscape with a few big risks associated that must be addressed. Depending on your risk tolerance, you may want to pause using these flashcards for a few key reasons.
First, Brainscape is a third-party study resource, and all WSET teachers everywhere will tell you to stick to the source material only. While it is safe to assume that information on the flashcards indeed came from a WSET book, and Brainscape verifies courses to some degree, you are at the mercy of hoping that the cards are factually correct. Any card you are concerned about will require you to check against the source material, which removes precious study time even if this is an element of learning outright.
Personally, I liked doing this. But I also know that others may not. It is safe to assume you will encounter dozens of cards that you may be confused about in any given module that requires subsequent research- so be prepared to make this step when needed.
Brainscape does let you send feedback to those who created any given slide deck, which I will admit is valuable in helping ensure accuracy in a widely used program like WSET. But it is still a risk all the same- particularly because information like update frequency is not visible to users.
Second, WSET can and does update source material regularly. What was in my WSET Level 3 course in early 2021 (and, subsequently, WSET Level 3 exam) may be different than what is in your WSET Level 3 course/exam in 2023 and beyond. This could range from entirely new (or removed) chapters to squeaking in a new minor law in Burgundy. To put it bluntly, if the cards are older than a year (which you may not overtly be able to tell), it is safe to assume changes have been made to the book and may not be updated in the cards when you are studying.
I noticed this in particular with my D4 exam as it was the first test after a new book was released in August 2022 (for an October 2022 test date). The cards on Brainscape were quite good, but after a thorough reading of the book, I saw a few cards where the topics simply were not in the source material at all.
As such, for those who use Brainscape to study, I want to leave you with this final thought- it is not perfect.
To me, using Brainscape flashcards to study for my wine exams is embracing the 80/20 rule in its purest form. I'm not going to spend 80% of my time making flashcards and only 20% studying when it is simply easier to pay for premade cards and flip that value proposition around. If a low percentage of cards are inaccurate, causing me to lose points on the exam outright, well, that is a risk I am simply willing to take- the amount of material I would not retain in making my own cards was likely far, far less than diving into Brainscape's cards outright.
So while I highly advise any WSET students to look into paying for Brainscape Certified Classes, you may also want to think about your risk tolerance due to issues such as these. While the cards are quite good, and I happily paid for the fee, they're simply never going to be perfect. Only you can decide how much of a risk "almost perfect" is for your studies, but for me, I've been quite pleased all around.
Have you used Brainscape to study for WSET exams? What did you think of them in preparing? Comment below to share!