Last Updated on September 30, 2022 by Jeremy
Disclaimers: This review uses WSET Diploma terminology and our own rating scale. Read more here. We use demographic data, email opt-ins, display advertising, and affiliate links to operate this site. Please review our Terms and Conditions for more information. This website is intended for those of legal drinking age in your jurisdiction.
In my studies for WSET Diploma, I knew I had to get my hands of a Blanc de Noirs style of wine to try.
This style of sparkling is white wine made from black grapes (hence the term "white of black") and, in my shopping experience at least, is slightly harder to come by over the more popular (and highly prized) Blanc de Blanc style.
So not only was it a treat finding Celene's Amethyste Brut, it was also a treat to try a Cremant from Bordeaux made from Cabernet Franc and Merlot. But the real kicker was that this bottle was also on sale for about $12, which made it an absolute steal!
A Refreshing Blancs de Noirs from Bordeaux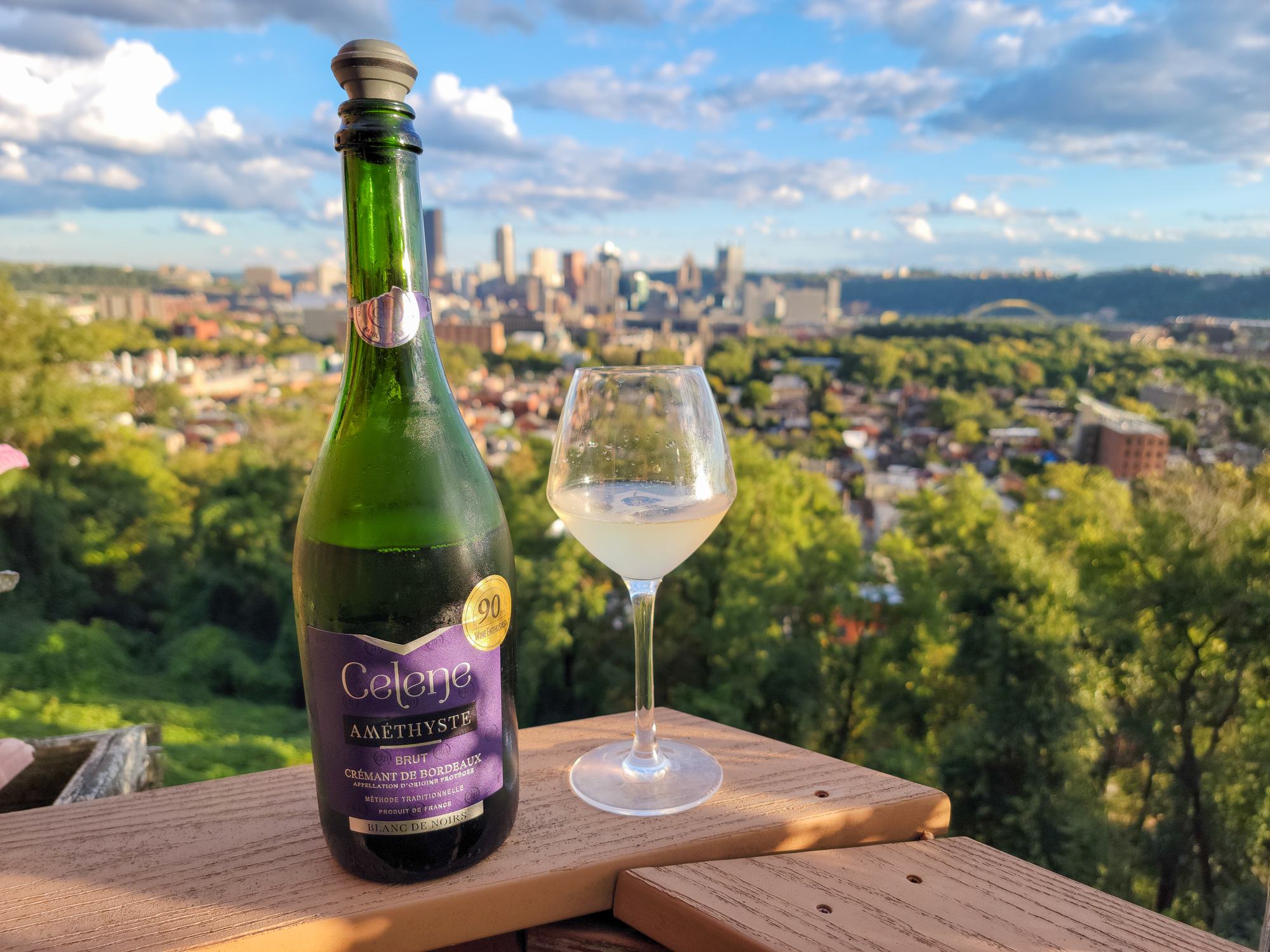 This sparkling wine made of Cabernet Franc and Merlot in Blanc de Noirs style was medium lemon in color with medium aromas of lemon, lime, pear, peach, watermelon, rind, raspberry, cream, yogurt, toast, strawberry, and pineapple.
On the palate it was dry with just a little bit of residual sugar, creamy mousse, medium acidity, body, flavor intensity, and a medium(+) finish. We had notes of lemon, lime, cream, raspberry, strawberry, green apple, toast, and brioche.
This Blanc de Noirs was quite interesting to us as we had red fruit characteristics, which were admittedly still rather light (but slightly stronger on the nose than the palate). This added a nice depth to the wine in addition to the autolytic characters of toast and brioche as well that we fully appreciated despite wanting a bit more in the acid department.
Blanc de Noirs Food Pairing – Stuffed Peppers and Roasted Squash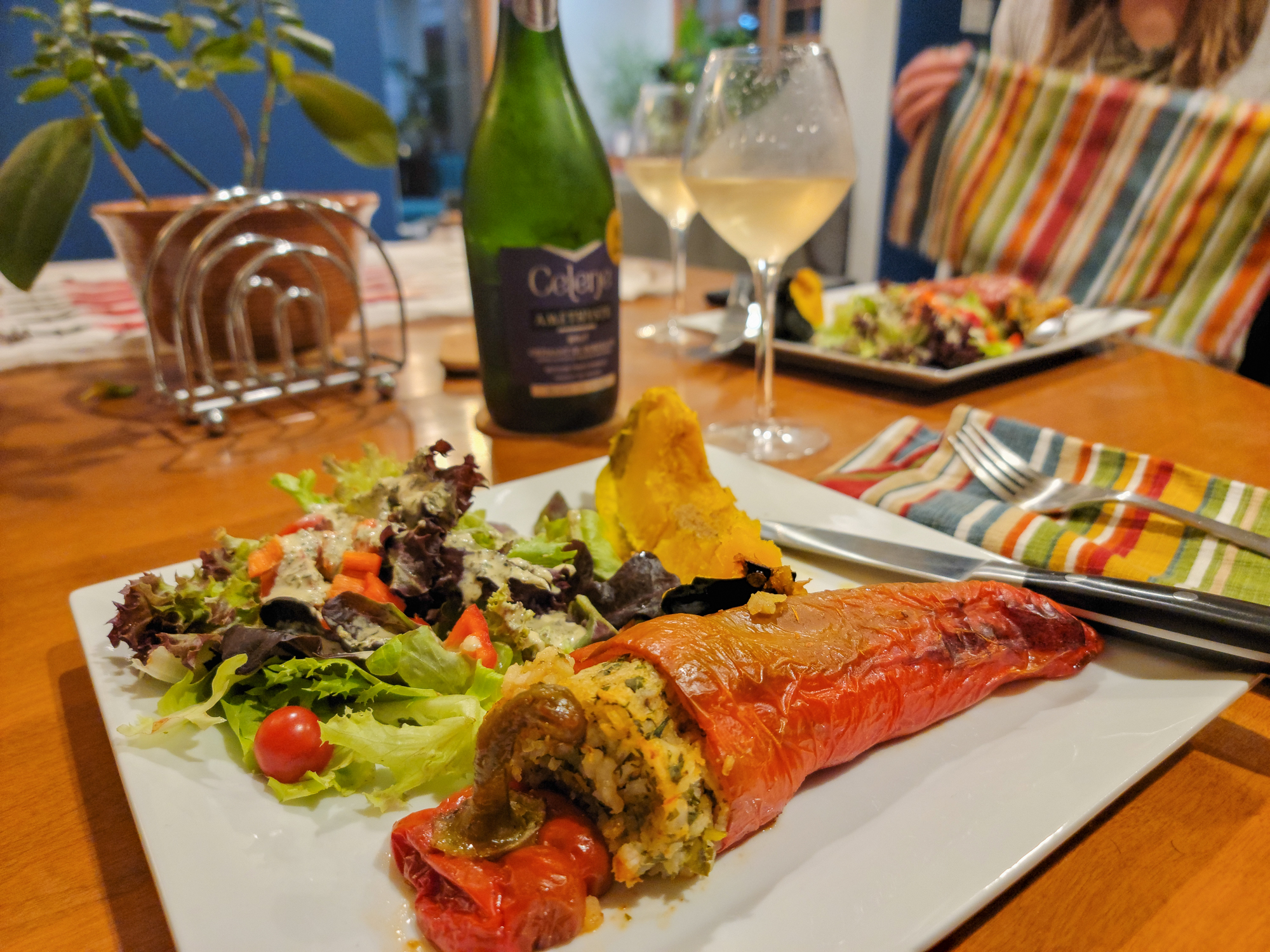 We paired this sparkling wine with rice stuffed peppers and roasted squash with a maple syrup glaze.
The squash here had a nice sweetness and helped mask a lot of the acid and autolytic characters in the wine while letting tropical fruit notes shine. The pepper did something similar while highlighting a bit of the creaminess and more citrus fruit notes while giving the wine a perceptively improved acidity kick as well.
Score: 3.5 / 5
We'd buy a glass or another bottle in the right instance.
Overall, this was a rather fascinating sparkling wine as we, admittedly, don't drink Blanc de Noirs style nearly as much as we should. The red fruit and autolytic characteristics were a nice surprise even if we wanted more acidity in this bottle overall. That being said, we also got this bottle on sale for ~$12 and would happily pick up another at this price point, otherwise we would never say no to a glass if it were to appear in front of us!
Celene is located at LIEU DIT, La Clotte, 33550 Haux in France. We purchased this bottle locally and enjoyed it in 2022.