Published Jeremy. Last Updated on March 30, 2021.
Disclaimers: This review uses WSET Level 3 terminology and our own rating scale. Read more here. We use demographic data, email opt-ins, display advertising, and affiliate links to operate this site. Please review our Terms and Conditions for more information. This website is intended for those of legal drinking age in your jurisdiction.
Chateau Maris La Touge is a lovely Syrah and Grenache blend from Minervois in the south of France. As we are coming to find out, we're quite enjoying wines from this part of the country!
A Nice Red Blend from Minervois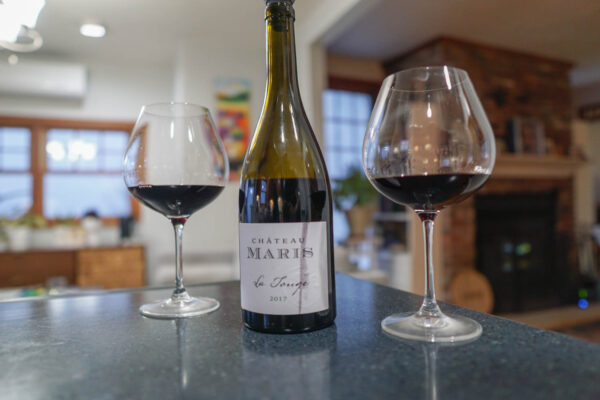 This Syrah was medium purple in color with medium+ aromas of jammy blackberry, bramble, blueberry, vanilla, cedar, black cherry, red cherry, mushroom, and chocolate that was developing.
On the palate, the wine was dry with medium+ acidity and body, medium tannin and flavor intensity, and high alcohol with notes of red cherry, black cherry, cedar, vanilla, cola, pepper, and dried herbs with a medium finish. Overall, quite nice flavors all around!
Minervois Food Pairing – Beef Stuffed Peppers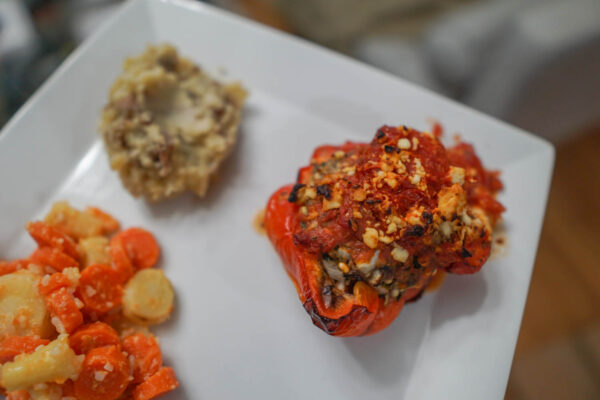 For a wine that had a nice acidity with some good tannin, a meat dish with a tomato sauce worked out well to highlight some of the flavors. In fact, the peppers helped accentuate some of the herbal notes in the wine as well and really worked for this one.
Do we think that wines with red fruit characteristics do better with tomato sauce? Sure, but we'll be hard-pressed to say no to this pairing.
Score: 3 / 5
We'd buy a glass of this one.
We're finding we like Syrah from southern France more and more, and Chateau Maris La Touge 2017 checks a number of boxes for us. We'd gladly have a glass of this one again!
Chateau Maris is located at 34210 Félines in Minervois, France. We purchased this bottle from Wine.com and enjoyed it in 2021.