Published Jeremy. Last Updated on September 13, 2022.
Disclaimers: This review uses WSET Diploma terminology and our own rating scale. Read more here. We use demographic data, email opt-ins, display advertising, and affiliate links to operate this site. Please review our Terms and Conditions for more information. This website is intended for those of legal drinking age in your jurisdiction.
I have a love/hate relationship with Sauvignon Blanc (and blends) from France. On average I really enjoy the grape, but to get the intensity and complexity I generally prefer out of French wines it almost always feels like you have to start out at $40/bottle (if not more) to get to a quality point that other locales can provide for half the price.
This is not exclusive to Sauvignon Blanc. In all honesty, it is simply France knowing how to get the most for their wines abroad. But that being said, it seems especially true with all the Sauvignon Blancs we've tried.
The Sauvignon Blanc and Semillon blend from Chateau Picque Caillou from Pessac-Leognan was not much different. While this one was much more complex for its price point than we originally expected, we also weren't quite sure about the sell price in the USA.
A Lovely Sauvignon Blanc from Pessac-Leognan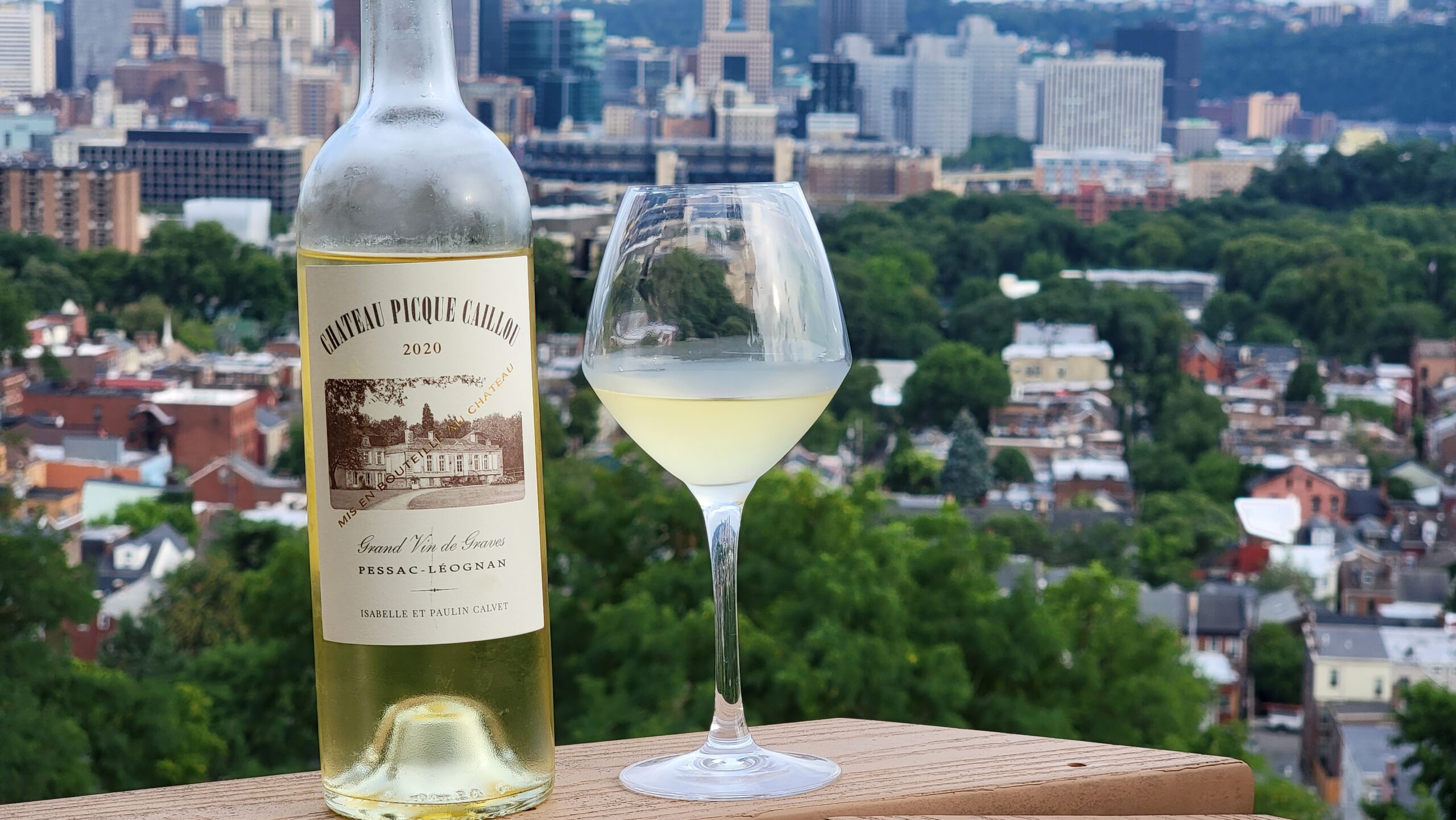 This Sauvignon Blanc and Semillon blend was pale gold in color with medium aromas of peach, grass, nectarine, saline, wet stone, slate, grapefruit, and light honeysuckle that was youthful.
On the palate, it was dry with high acidity, medium alcohol, body, and finish, plus medium(+) flavor intensity. We had notes similar to the nose with pear, peach, wet stone (almost calcium-like), geranium, grapefruit, underripe pineapple, lemon, and lime being found. Likewise, while this one had what we'd consider to be a medium finish, it fell like it fell off somewhat quickly even with the acidity.
Pessac-Leognan Food Pairing – Iranian Herb Rice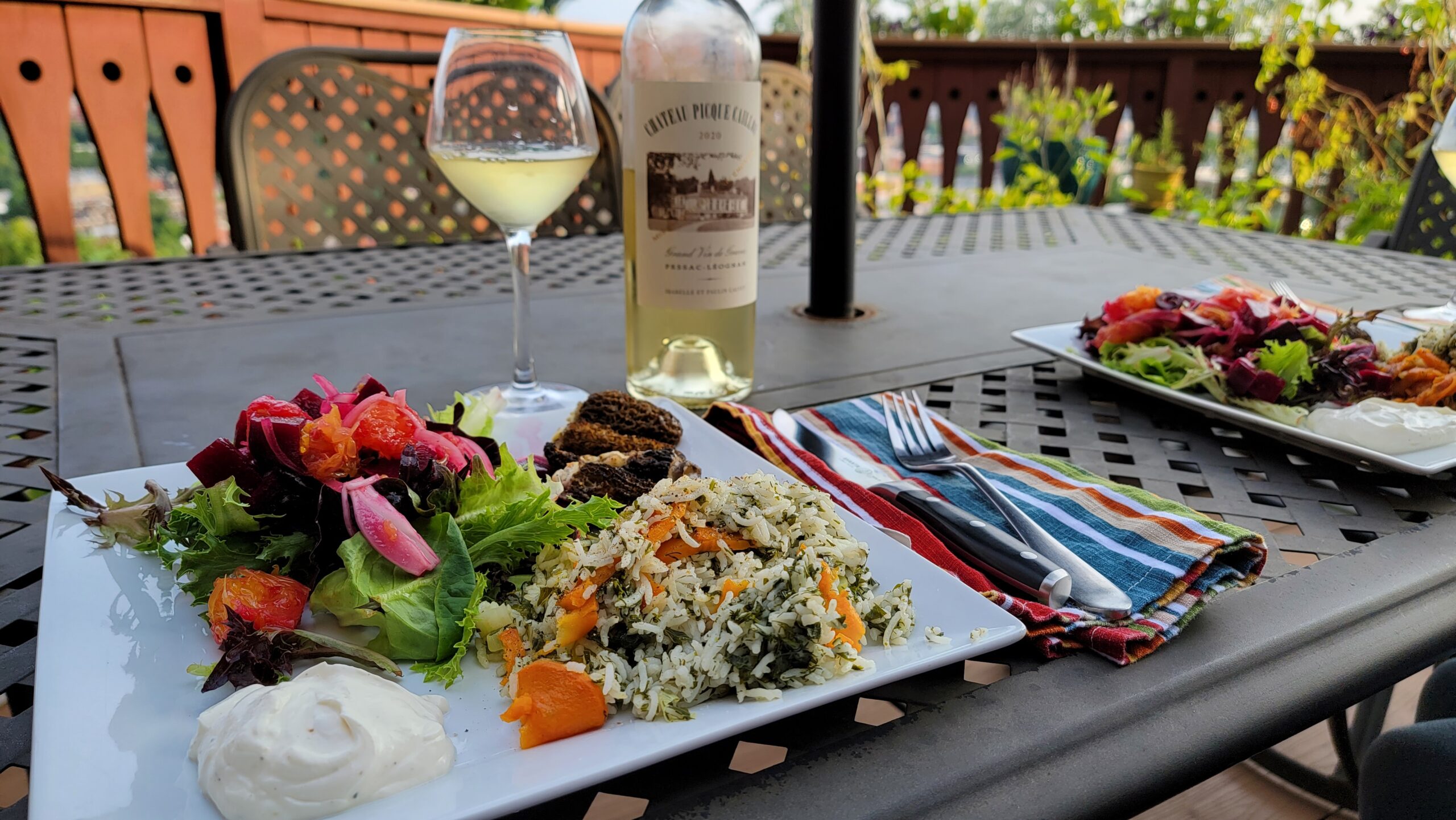 We paired this white wine with an Iranian rice dish that was packed full of various kinds of herbs as well as stuffed morel mushrooms, beet salad, and a yogurt sauce on the side.
The herbed rice itself masked a lot of the nuance in the wine and really only allowed the lemon and lime notes to shine, whereas the yogurt sauce on the side helped highlight more of a peach skin note that was rather refreshing all around.
Could this pairing have done more to make the wine sing? Sure. But we have to admit the added little bit of yogurt really did wonders.
Score: 3 / 5
We'd buy a glass of this one.
Overall, we have to go back to our price point conundrum when it comes to good French wine. Did we like this bottle? Very much so yes. Would we pay for another one at the price point it was offered at (~$40)? I'm not so sure. But would we grab a glass of it if it was on a restaurant menu and we had a great pairing in mind? Absolutely.
Chateau Picque Caillou is located at 93 Av. Pierre Mendès-France, 33700 in Mérignac, France. We bought this bottle locally and enjoyed it in 2022.