Last Updated on December 1, 2021 by Jeremy
Disclaimers: This wine or experience was provided complementary for this review. We use demographic data, email opt-ins, display advertising, and affiliate links to operate this site. Please review our Terms and Conditions for more information. This website is intended for those of legal drinking age in your jurisdiction.
We are always fans of trying new wine shopping services out there as it is interesting to see how companies are changing the wine buying experience for consumers.
One new company, Divvy-Up, reached out to us to try them out, and we have to admit this one is taking an incredibly unique approach to connect wine consumers with producers.
How are they different? They offer discounts by promoting just one wine at a time!
Divvy-Up Takes a Different Approach to Selling Wine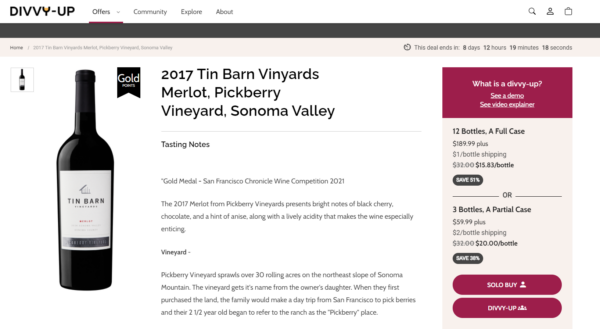 In a way, Divvy-Up's model is rather simple, but when you look at the website it may be somewhat difficult to understand at first glance.
At its core, Divvy-Up is an intermediary that introduces buyers to wineries they may not know about or be able to acquire in their local stores. This is, to be fair, not unlike most wine services out there- our blog included (although we don't sell wine). But where Divvy-Up diverges in their approach is that they only feature one wine at any given time.
They have no collection of wines available for purchase. They do not have a vast inventory for you to sort through (only past bottle features for reference). Their current feature is just one and only one wine which changes roughly every week or so.
So why is this important?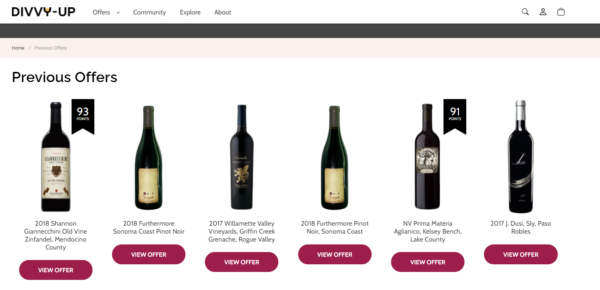 By solely focusing on one winery at a time, Divvy-Up is, in effect, facilitating a bulk purchase from each winery they promote. If they featured 1,000 unique wines on their platform, any given bottle may only have a couple of sales a week (if that). But by only featuring one wine at a time, they may sell dozens if not hundreds of bottles from a single producer. By doing so, they are able to negotiate bulk discounted prices from wineries, which are then passed on to you in the form of savings.
As consumers, we often are given opportunities for half or full-case discounts on wine when we shop at stores and wineries, but it is very rare that we personally get to take advantage of the discounts. With Divvy-Up, our purchases are pooled together with every other shopper to leverage the power of bulk buying and still receive a discount.
There are, of course, some caveats that come with this that we should also mention.
Minimum Bottles and Group Buys Are Of Note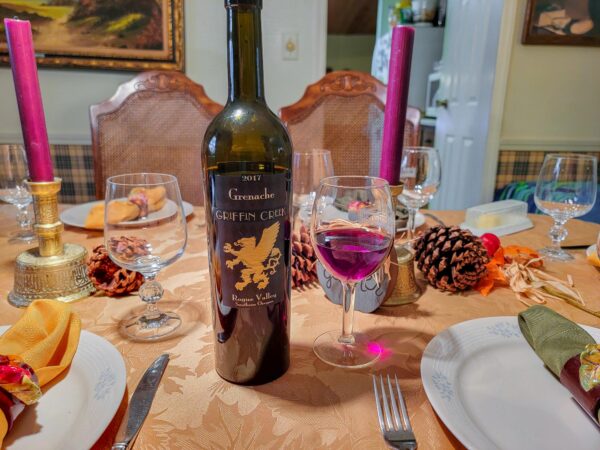 When it comes to purchasing on Divvy-Up, each winery may offer bottles as an entire case (bigger discount) or a partial case of 2-3 bottles (lesser discount). This allows for a bit of flexibility in your ordering, but it is worth noting that it is unlikely that any winery will sell wines on the service as single bottles (our Willamette Valley Vineyards Griffin Creek Grenache came in a minimum order of two, for example). As shipping is expensive, we can see why this is done as yet another cost-savings measure.
Likewise, orders are not shipped on demand. They're collected via Divvy-Up and sent to the winery after the promotion period has ended. Again, they're facilitating a bulk buy across all orders. It is only at this point that the winery processes the orders and ships out all the wines in one lump packaging spree. This is necessary to help keep costs down, but don't expect your wine to get put on a truck minutes after you order it- it may take a week or two before it gets delivered.
For those who want to leverage the power of case buying but don't necessarily want 12 bottles for yourself, you can initiate another fun feature called a Divvy-Up- a unique subset of the service where you can split your case amongst friends within your order. The company equates this somewhat like a shared Uber. You all split the ride and the check, although in this case we're not talking about ride shares but instead delicious wine. It is worth noting that these are shipped in one bulk order to the main buyer, so it is on you to distribute amongst your friends.
From there, the only other downside to note is that Divvy-Up currently only ships in the USA and is limited on some of the states they can ship to. From our understanding, it seems like state limitations may vary winery-to-winery as it is based on their shipping capabilities first and foremost (again, Divvy-Up is facilitating direct sales). As such, for my order I had to get it shipped to my in-law's house in another state as the winery couldn't accommodate Pennsylvania delivery partly, we guess, thanks to our state's draconian alcohol laws.
Finally, as they only feature one wine at a time, you may find yourself waiting for a few cycles of promotions before finding a wine you wish to purchase. It took us probably a month of watching weekly deals to find a wine we were wanting to add to our cellar (if not longer). This is also not necessarily a bad thing, but it certainly highlights what the one wine feature really means.
Overall, Divvy-Up is an interesting model to help introduce consumers to wineries they may not have access to as well as provide some deep discounts along the way. You may have to check the site for a while before finding a wine and deal that appeals to you, but we'll always be happy to take a few moments to check out the offerings each week when discounts are on the table!
To check out Divvy-Up, click here. We were provided bottles courtesy of Divvy-Up for this review. As always, all opinions are our own.