Published Jeremy. Last Updated on December 2, 2022.
Disclaimers: This review uses WSET Diploma terminology and our own rating scale. Read more here. We use demographic data, email opt-ins, display advertising, and affiliate links to operate this site. Please review our Terms and Conditions for more information. This website is intended for those of legal drinking age in your jurisdiction.
Every time we go into a new liquor store, I'm always on the lookout for wines with new-to-us grapes to help us in our quest here at The Grape Pursuit.
I did this while exploring Total Wine outside of Washington DC and stumbled upon the Slovenian grape, Pinela, in a bottle by Vipava 1894. It only lasted a few weeks in our house before we opened it, and I have to admit I was pleasantly surprised with how flavorful this one is.
Pinela is A Surprising Slovenian Find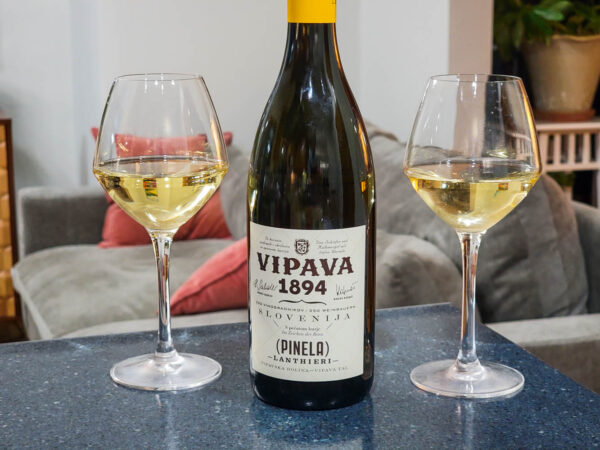 This Pinela wine was pale gold in color with medium peach, nectarine, kiwi, lime and orange zest, geranium, wet stone, saline, and was youthful.
It was dry but with some perceptible sugars (not necessarily to the off-dry point), medium acidity, alcohol, body, and finish, and medium+ flavor intensity. We had notes of yellow apple, melon, pear, peach, and nectarine of prominent note, with perhaps some tropical characteristics coming in subtly.
Pinela Food Pairing – German Style Pork Chop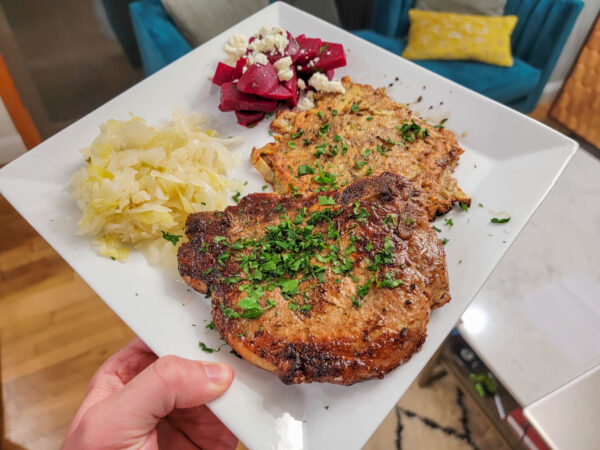 We paired this wine with a dish from nearby Germany- sous vide pork chops, potato pancakes topped with apple butter and sour cream, beets, and sauerkraut.
The rich pork chop brought out more tropical notes like grapefruit in the wine, whereas the sour cream and apple butter helped accentuate a salinity in the wine that we did not note on the palate as well. It was prominent with the sour cream, but not overwhelming such that we think this wine could go with dishes with slightly creamy notes as well.
Score: 3 / 5
We'd buy a glass of this one.
Overall, we were quite pleased with the find of Pinela and this bottle itself. We'd be happy to order a glass of this one and look forward to trying more from this grape in the future.
Vipava 1894 is located at Vinarska cesta 5, 5271 in Vipava, Slovenia. We purchased this bottle from Total Wine near Washington DC and enjoyed it in 2021.