Last Updated on December 20, 2022 by Jeremy
Disclaimers: This wine or experience was provided complementary for this review. We use demographic data, email opt-ins, display advertising, and affiliate links to operate this site. Please review our Terms and Conditions for more information. This website is intended for those of legal drinking age in your jurisdiction.
You likely know that Montepulciano is an intense red wine from Italy. But have you ever had it made in rose style?
We were able to give this unique preparation a try with a sample bottle from Masciarelli's Villa Gemma Cerasuolo d'Abruzzo and have to admit it is a rather unique way to enjoy this grape!
An Intense Montepulciano Rose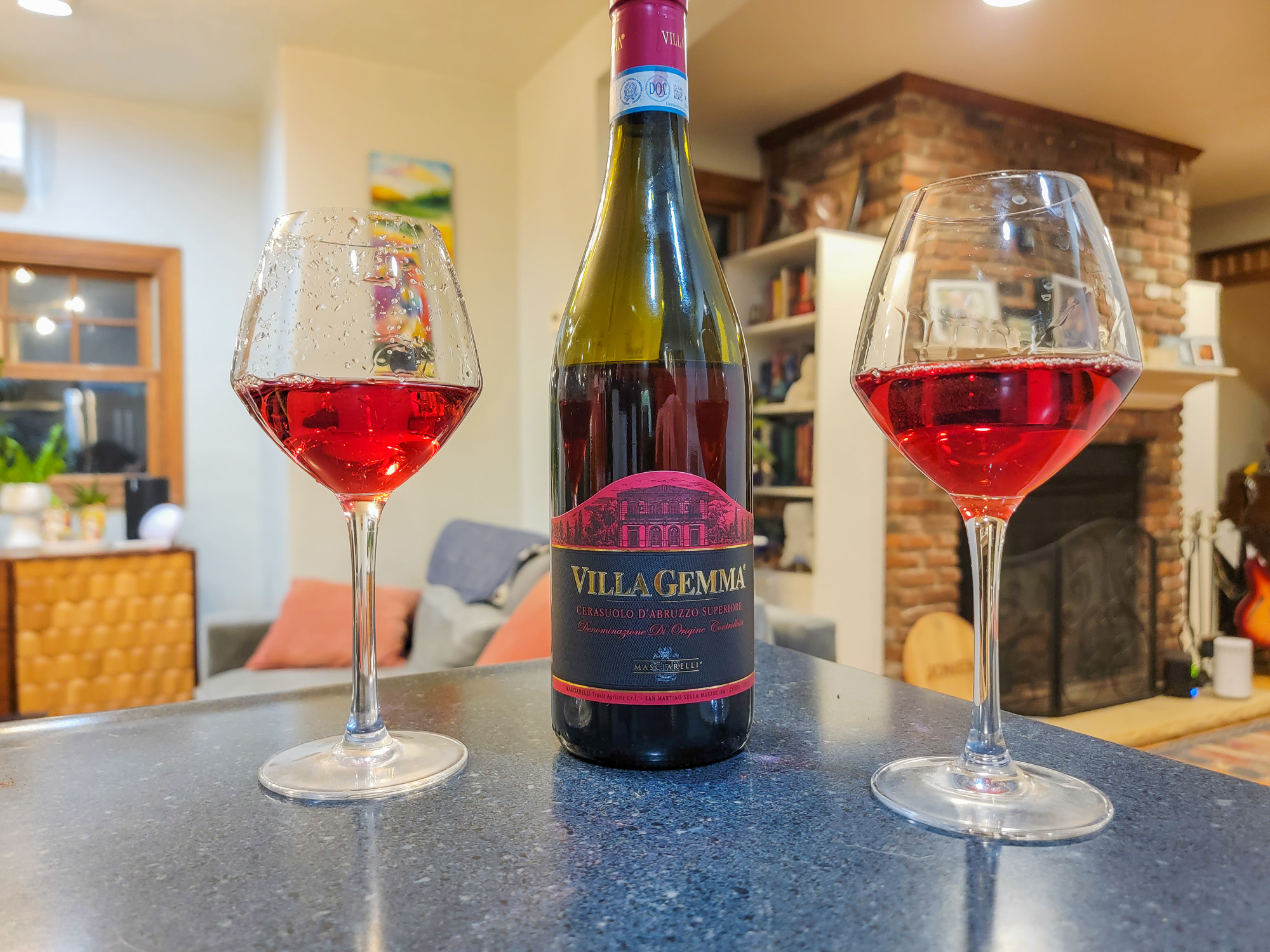 This rose of Montepulciano was deep pink in color with medium aromas of watermelon, watermelon rind, raspberry, strawberry, light cream, and orange zest.
On the palate, it was dry with high acidity and alcohol, low tannin (almost not present at all), medium body and flavor intensity, and a medium(+) finish. We found notes of strawberry, watermelon, and raspberry which almost were pushing more rich skin flavor than pulp plus lighter cream (more a mouthfeel), wet stone, and a faint herbal note as well.
Rose of Montepulciano Food Pairing – Lentil Soup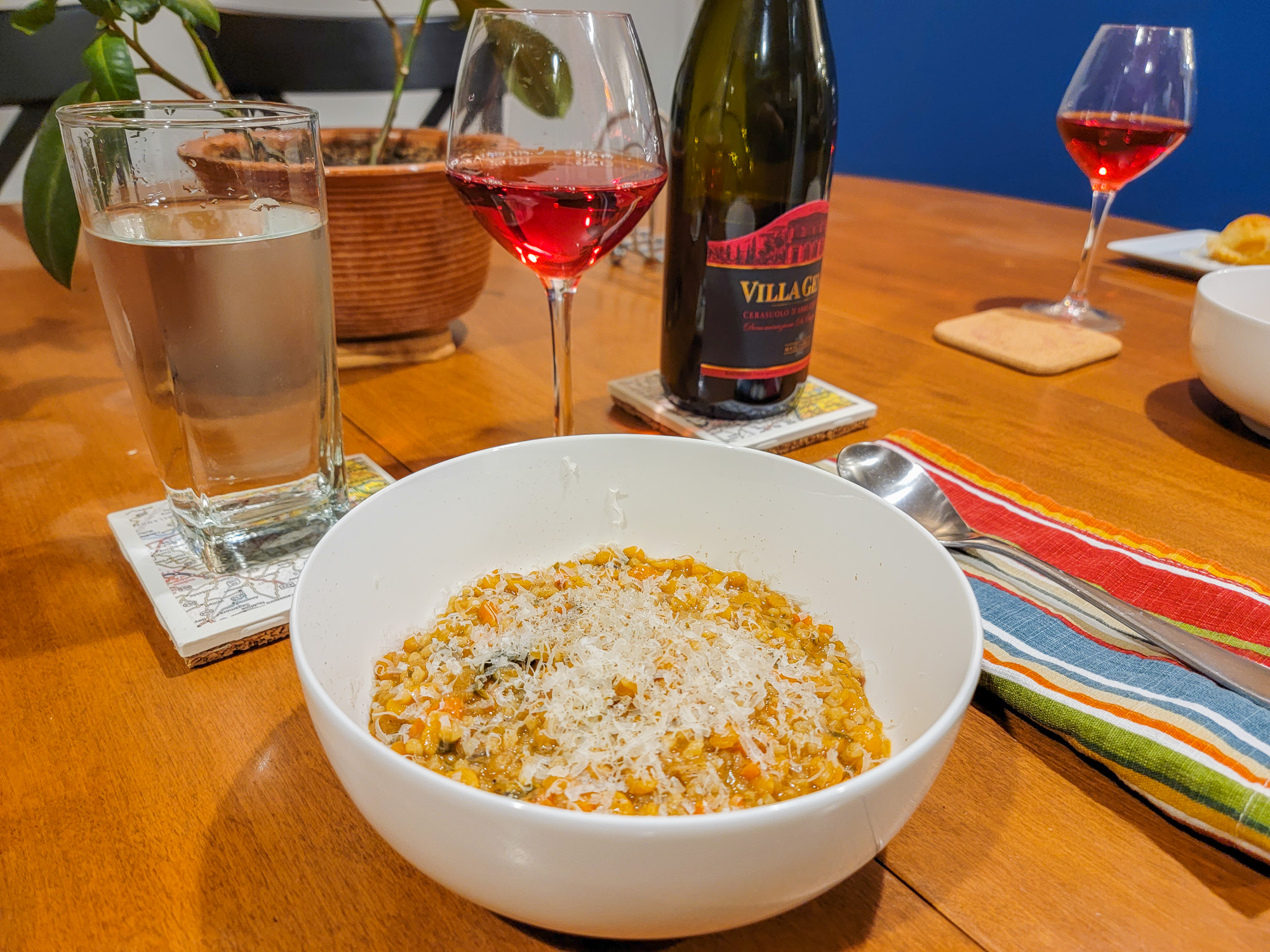 We paired this Montepulciano rose with a Lentil soup made with ample vegetables, homemade stock, miso, and white wine. We mostly picked this one because the rich, warm flavors of the lentil soup were somewhat of a blank canvas flavor-wise, so we erred on the side of caution in choosing a rose that should match well with just about everything.
It did.
One of the reasons the pairing worked so nicely is that the acidity held up quite well while not altering the flavors too much in any one direction. The most we can say is that the intensity of the acidity was lessened slightly, and perhaps there was a bit more cream notes on the palate beyond textural as noted above. Apart from this, the pairing was simply a nice combo for something where we wanted solid wine flavors all around independent of our selected dish, and this one delivered.
Score: 3 / 5
We'd buy a glass of this one.
Overall, this strong rose hits you with intense acidity, prominent alcohol, and strong fruit flavors with minor nuances of cream, herbs, and minerality. While we typically like our rose wines to have a bit of stronger character in one of those non-fruit categories, this one will hold up well with so many styles of dishes that we would order it as a glass as a reliable pairing outside of, perhaps, something incredibly spicy (due to the higher alcohol).
Masciarelli Winery is located at Via Gamberale, 2 66010 San Martino sulla Marrucina, Italy. We received this bottle courtesy of the winery for this review. As always, all opinions are our own
Upgrade Your Home Wine Bar
Need more products for your home bar? Check out some of our favorites:
Discount on Naked Wines

Need to pick up bottles for your cellar? Check out the rather unique wine club, Naked Wines, and take $100* off your first case order on us!
*Valid for new members only. Other terms and conditions may apply. Not valid in all states. Discount code may change in value without our advance knowledge.