Published Jeremy. Last Updated on October 4, 2023.
Disclaimers: This review uses WSET Diploma terminology and our own rating scale. Read more here. We use demographic data, email opt-ins, display advertising, and affiliate links to operate this site. Please review our Terms and Conditions for more information. This website is intended for those of legal drinking age in your jurisdiction.
We often cite Chateau Musar as one of those wineries that got us into wine in the first place. We first tried them at Wine Bar George at Disney Springs (the '98 red) and had a revelatory moment about what wine truly could be like.
Ever since, we've been on the hunt for Chateau Musar bottles, and particularly old Chateau Musar bottles to enjoy at home.
So when we found a cache of old bottles at the Party Source in Newport, Kentucky, we knew we had to pick up a few, and one bottle was a Chateau Musar Blanc dating back to 1997.
A 26-year-old white wine, made with rare grapes from Lebanon (Obaideh and Merwah- likely ancestors of Chardonnay and Semillon), stored at a facility we know and trust? You know we had to open that one right away.
Musar Blanc 97 is a Gem, But Possibly Just Past Peak
This white blend of Obaideh and Merwah grapes was medium amber in color with medium(+) aromas of dried apricot, dried pineapple, creme brulee, almond, toast, vanilla, orange marmalade, orange peel, a menthol note that went away with decanting, honey, dried white fig, and golden raisin.
On the palate it was dry with medium acidity, alcohol, and body, medium(+) flavor intensity, and a long finish. We got notes of lemon, lime, dried apricot, orange peel, vanilla, almond, caramel, orange marmalade, cedar, ginger, golden raisin, and bruised yellow apple.
This is one of those wines you're going to sit, smell, and sip again and again as new flavors come out; however, this one also was worth decanting for an hour or two as well- many of the aromas opened up over time with that minor menthol note going away as well. Savor this one over a long evening!
That said, the primary fruit character was quite minimal here, with secondary and tertiary notes dominating the wine. The flavor notes of bruised yellow apple and almond almost made us think of the wine like an oxidatively aged sherry (but with more acid) which, while delightful, makes us think the wine is perhaps a year or two past peak despite still being delicious all around. This, of course, is simply a personal preference to us!
As with all old wines, opening an aged Musar with a corkscrew is not recommended. Instead, try a two-prong wine opener like an Ah So. Although in this instance our cork simply pushed through the bottle- it was that delicate!
Chateau Musar Blanc 1997 Food Pairing – Seafood Pasta with Cream Sauce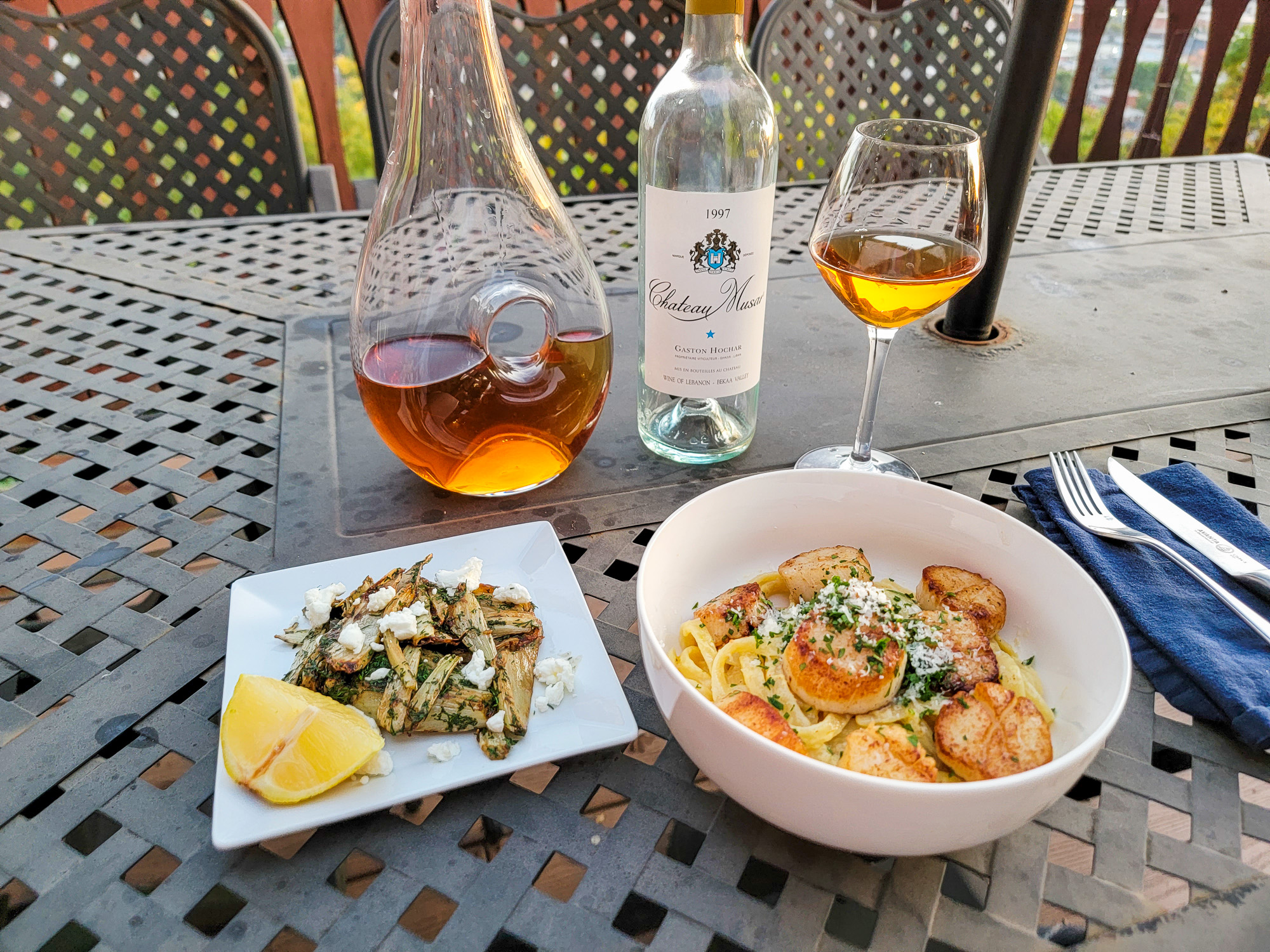 We paired this old white wine with a decadently rich seafood pasta topped with scallops, trout roe, and tossed in a cream sauce with saffron and a dash of chile because an intensely aromatic white wine deserves an intensely flavorful food!
This really ended up being a perfect pairing because the sweetness of the scallops and richness of the cream played off the flavors in the wine nicely, and the creme brulee and vanilla notes in the wine seemed to spike with every bite while not being overbearing.
As a side, we grilled fennel as we thought the flavors of this one could be interesting with the wine and thought that more of the marmalade, almond, and honey notes jumped out on this end. In a way, this duo became a great pairing since we could change the expression of the wine with every sip all through food!
Score: 4 / 5
We'd buy another bottle of this one.
Overall, this was a gem of a bottle and a worthy splurge for the $100 price tag we found it at. Would we buy another bottle? Yes. In a heartbeat. Chateau Musar rarely disappoints and we almost always with we had more of everything we try. The only reason we're not rating this one higher into our we want many bottles or we want a case category is simply that this one is already at its peak or perhaps just past, such that we wouldn't want to age this one much longer if at all.
But if we see another again, well, we're in!
Chateau Musar is located in Ghazir, Lebanon. We purchased this bottle locally and enjoyed it in 2023. Wine.com carries many Chateau Musar labels but primarily younger vintages as of publication.