Published Jeremy. Last Updated on March 23, 2021.
Disclaimers: This review uses WSET Level 2 terminology and our own rating scale. Read more here. We use demographic data, email opt-ins, display advertising, and affiliate links to operate this site. Please review our Terms and Conditions for more information. This website is intended for those of legal drinking age in your jurisdiction.
Pulenta Estate outside of Mendoza, Argentina, has a special place in our hearts. We visited this one as part of a wine tour we took on Angie's birthday during our year-and-a-half gap trip in 2013-2014 (featured on our travel blog).
We had fallen in love with their entry-level La Flor Malbec and treat it as our go-to entertaining wine when we have guests over and do not know their wine tastes. But since returning home, we wanted to broaden our horizons with some of the winery's other offerings and picked up a bottle of their Chardonnay to try out a varietal we had not had from them before.
It did not disappoint.
A Complex Chardonnay from Argentina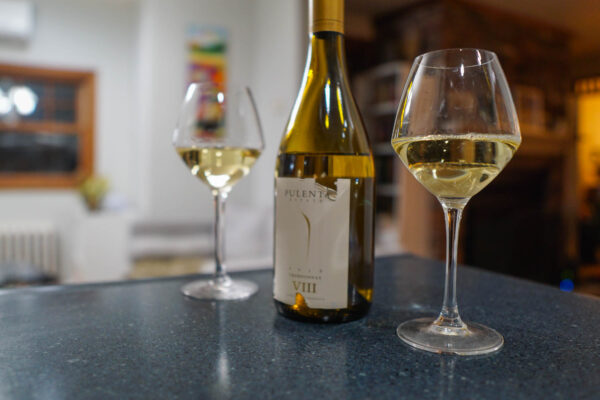 While this one was pale lemon in color, it came with a medium aroma of lime, peach, pineapple, a white flower (possibly jasmine), and a slight buttery note on the finish.
On the palate, the wine was dry with high acid, medium alcohol and body, and pronounced flavor intensity. We got a wealth of flavors out of this one including lime, pineapple, cream, butter, and baking spices to name a few with a medium finish that was borderline long.
The balance of citrus and tropical notes with the creaminess was exquisite in this wine- although we could see it may be a bit too buttery for those who do not like this specific characteristic in some Chardonnay (we generally do not like it when it is too strong either but felt this one worked).
Pulenta Chardonnay Food Pairing – Butternut Squash Ravioli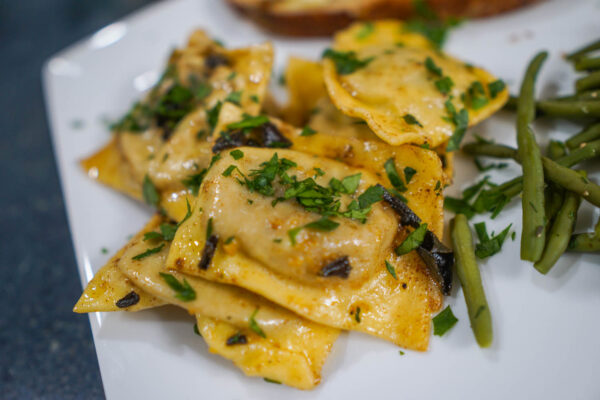 We picked a buttery-forward Chardonnay to pair with one of our favorite homemade ravioli- butternut squash filled that is then topped with a brown butter and sage sauce.
The richness of the squash and butter sauce compliments the creamy notes in the wine well and allowed more of the acidy and tropical notes to shine. Taking bites of our side (green beans) allowed our palate to clear just a bit so we could get more buttery notes from the wine in alternating sips- a delicious pairing!
Score: 4.5 / 5
We'd like to have several bottles of this one.
Overall, the tropical notes and buttery/creamy nature of this one struck a wonderful balance such that neither component overwhelmed the other. This resulted in a lovely Chardonnay that we cannot get enough of and is one we'd happily pair with robust and buttery dishes again. As such, we'd love to have a few bottles of this one on hand at any given time.
Pulenta Estate is located at Ruta Provincial 86 km 6,5, Alto Agrelo, M5509 in Luján de Cuyo outside of Mendoza, Argentina. We purchased this on Wine.com and enjoyed it in 2020 and have also visited the vineyard.
Looking for more from Pulenta? Check out our review of Pulenta Malbec I!